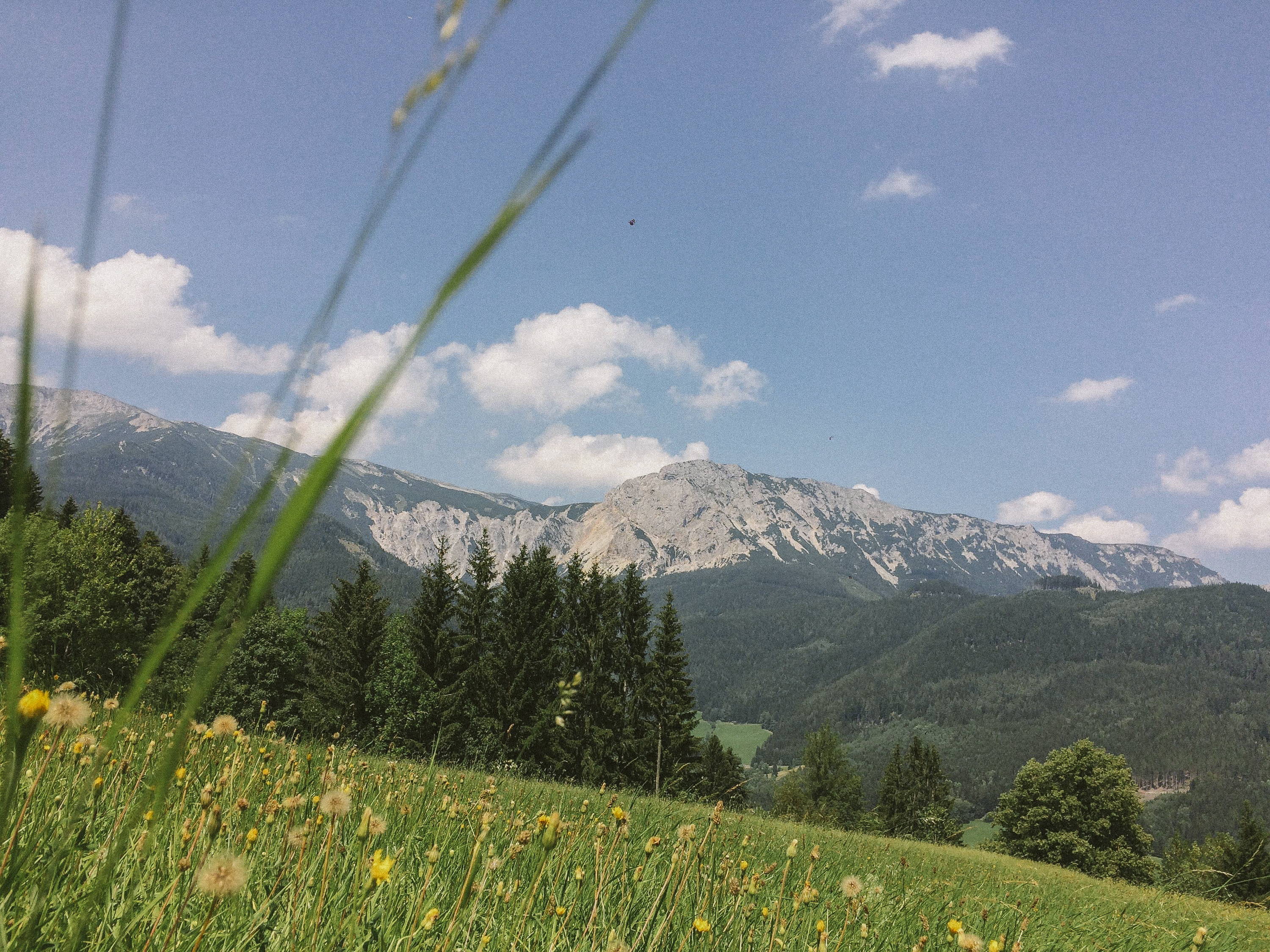 James Stockhausen is our workshop manager here at Temple and resident dirt expert. If you've bought a bike from us chances are James has had his hands on it. This instalment of his reports from the road details a summer adventure of Alps, lakes and a wedding.

29th January 2019 - By James Stockhausen

---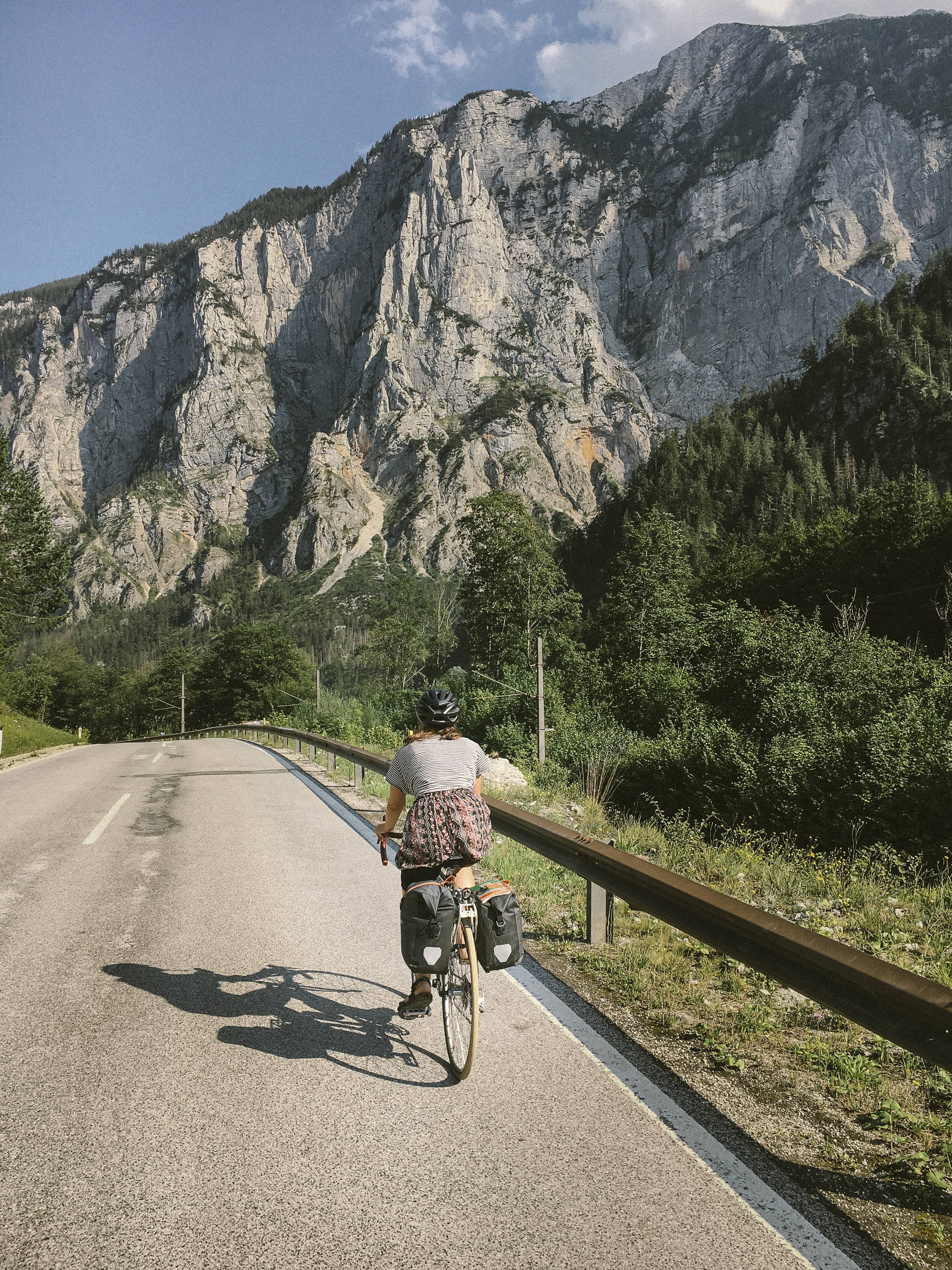 We were being treated to the best summer weather ever and it was time for tour number two! The last item on my list (see last blog) went rather well and I now had someone to do mad adventures with. Rosie's cousin was marrying an Austrian and the event was to take place in Vienna - the perfect excuse for a cycling tour.
The bikes would be Temples (of course) and my trusty Adventure Disc would be returning in 700c form, decked out with Yorkshire's Restrap bikepacking bags. Rosie would be representing on an Adventure Tour with trusty Ortlieb Gravel pannier bags. We were travelling light and would be taking every opportunity for a coffee and ice cream stop along the way.
Our journey began in a hot and sweaty Salzburg, so we quickly escaped the oppressive heat of the city and began climbing up into the hills. The climbs were long but gentle, and in no time we were amongst the cows in the Austrian countryside.
First stop on our way up was picturesque St Gilgen. We also had our first swim of many, in the stunning Lake Wolfgangsee. The water was unbelievably blue and perfectly chilled, just the tonic for our aching legs. The sky also took on a more intense hue up here in the mountains. Everything felt crisp and fresh.
By the end of the first day we had made it to Bad Ischl, where the only available food was from a not-so-crisp and fresh McDonalds. Food is food when you're cycling all day and we didn't pass up. Our stomachs full, we made camp in the town's skate park. A half-pipe proved an unlikely wild camping spot, perfect for stargazing and a decent night's sleep.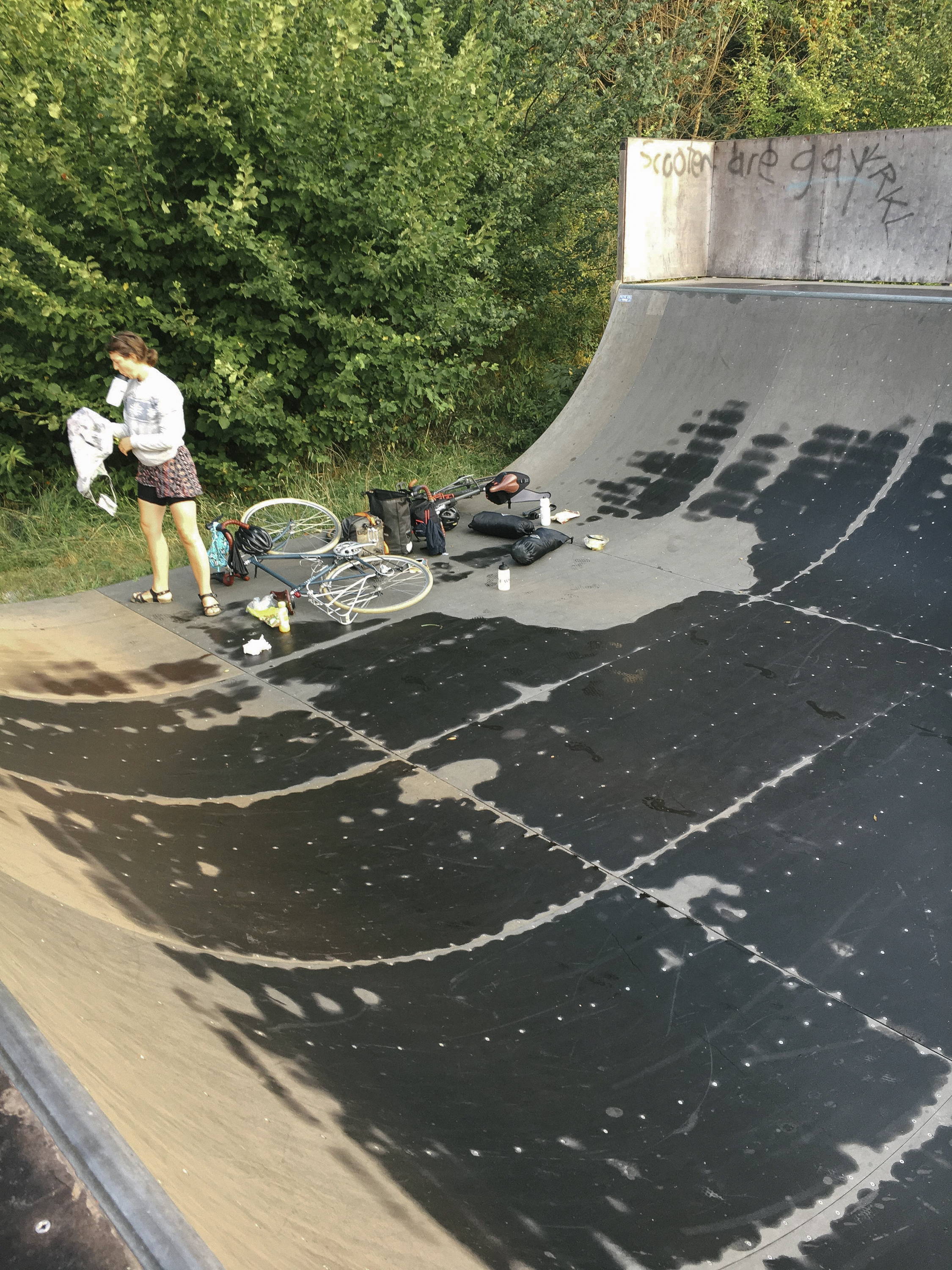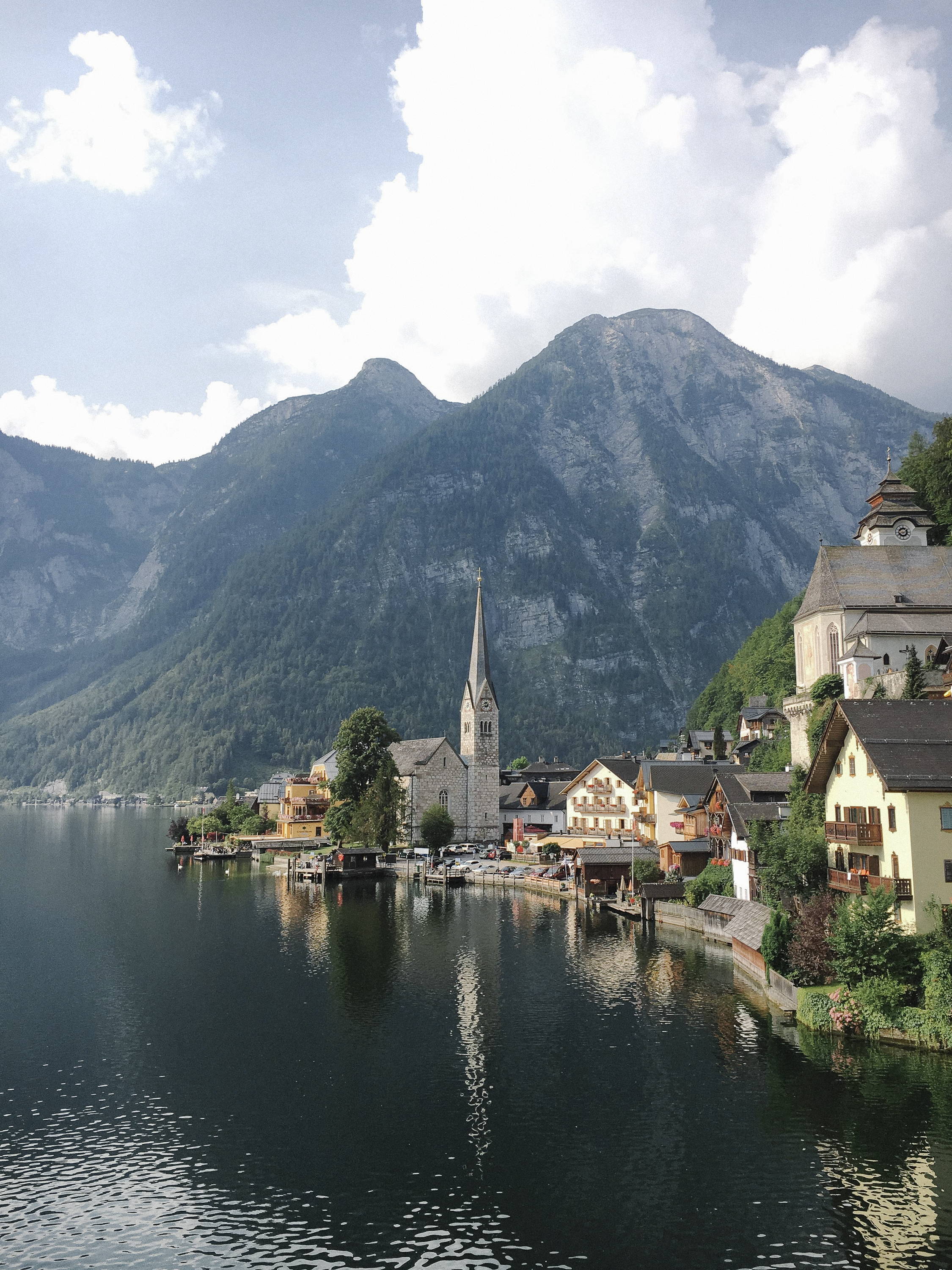 Refreshed, we made an early start to Hallstatt. This small tourist town, perched on the edge of a grand lake, looked the typical Austrian picture postcard - time for swim number two! We floated in the lake's crystal waters for far too long and had to get a move on if we were to reach our destination for the night.
The next couple of days were like an endless Sound Of Music movie set: meadows, mountains, lederhosen and pastries. The going was easy, thanks to clearly signed and well-paved cycle routes. Apart from one short, horrendous 24% climb, we were surprised by how the flat the route was as it wound its way between the increasingly spectacular mountains of Gesäuse National Park.
That night, nestled in the mountains above the tranquil waters of Leopoldsteiner See, we were haunted by sounds of nature and other, not so natural sounds. The hills are alive turned into the hills have eyes. Our minds were playing tricks on us and this epic bivvy spot soon turned into our worst sleep of the trip.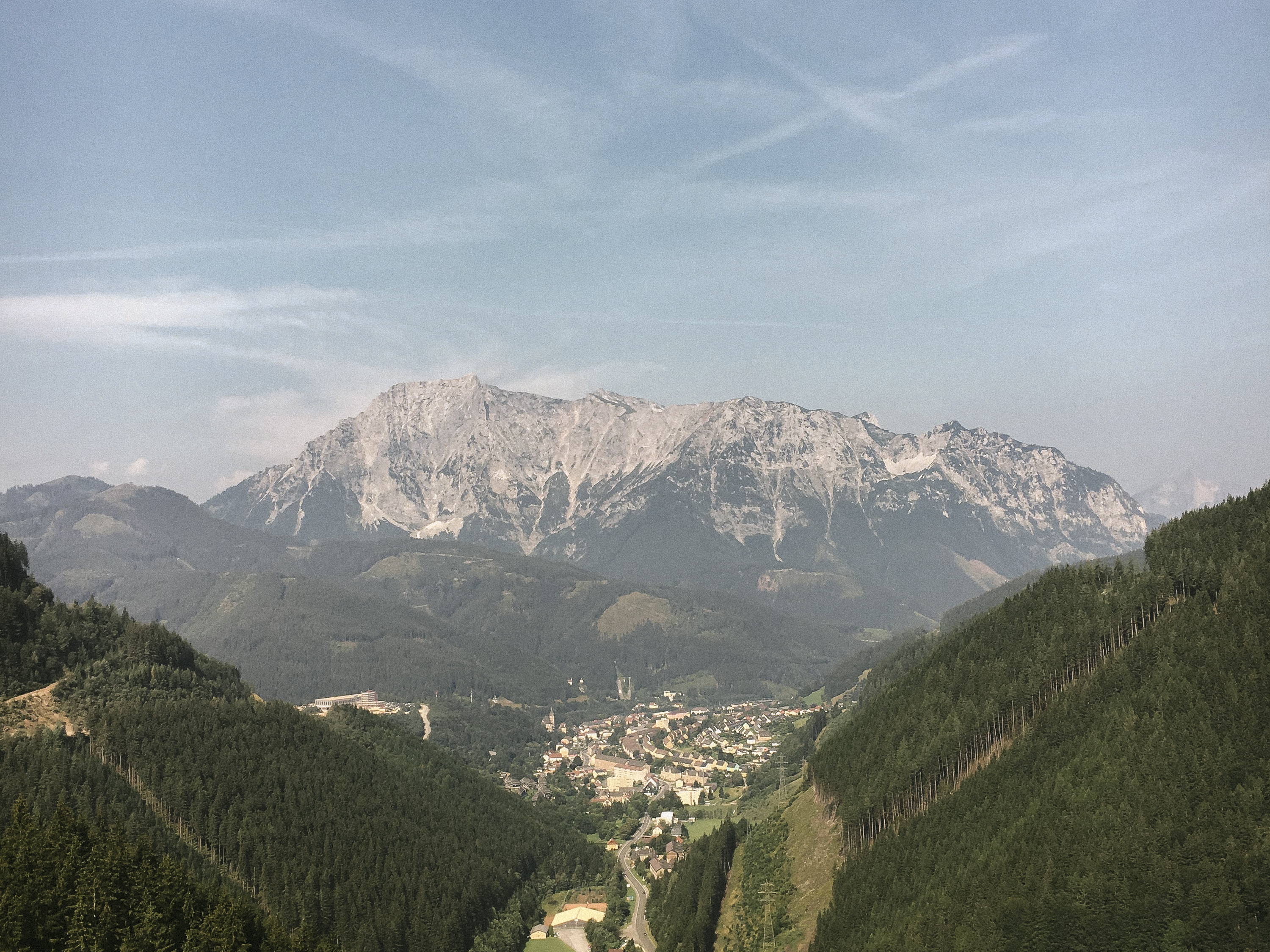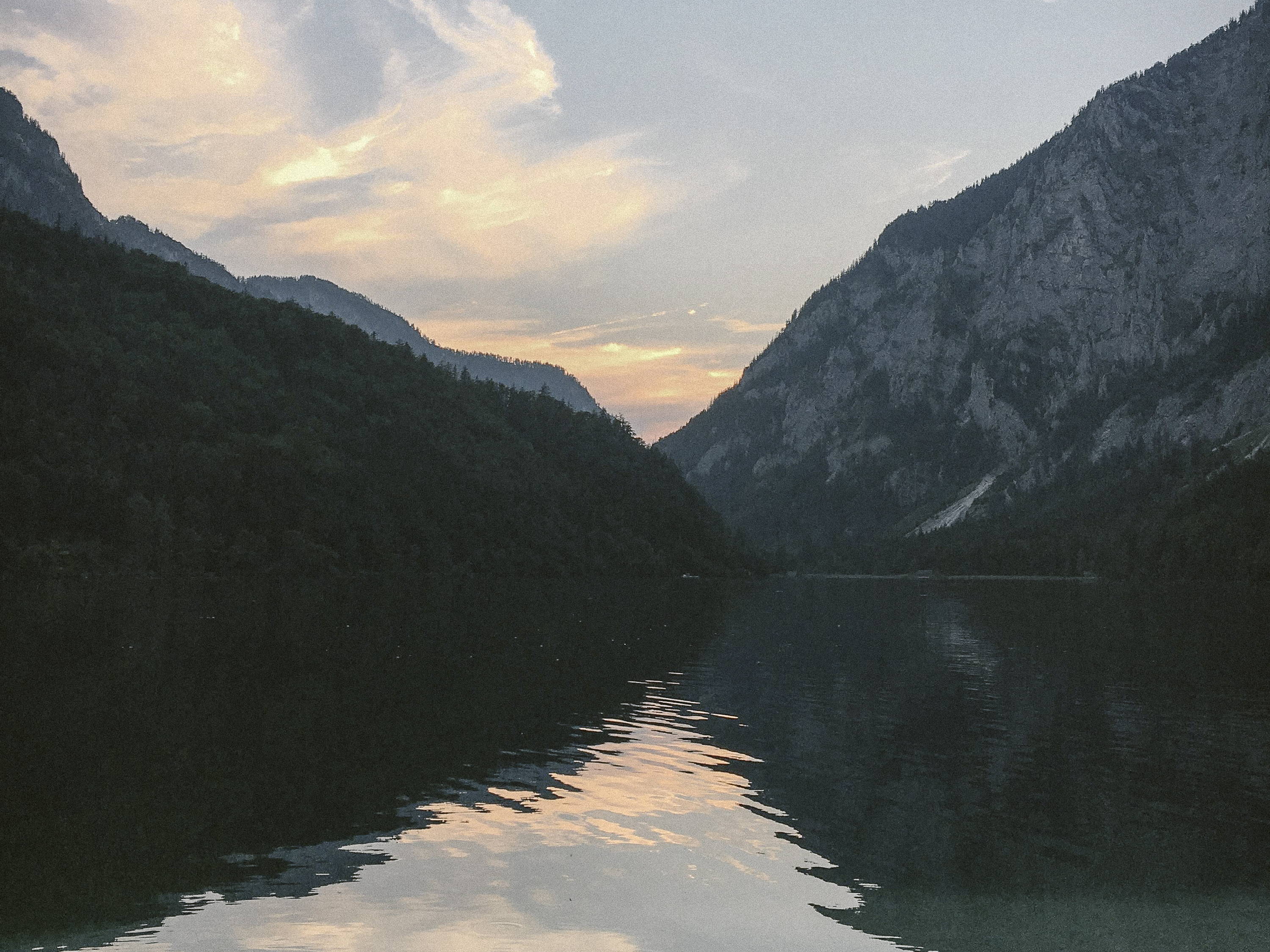 Lack of sleep became quite an issue on this trip, when my mental health was not at its best. Tapering off and on of antidepressant medications over the summer had taken its toll and I was not completely feeling myself. My moods were as changeable as the Alpine topography and the pressure I felt to be a worthy touring companion did not help. I was incredibly lucky to share this experience with someone as kind and patient as Rosie, who was always understanding and encouraging. Being presented with the most amazing Alpine views and feeling nothing is hard to explain and even understand myself. It turns out you cannot cycle away from your problems after all, but rather they must be acknowledged and sometimes accepted. Sure, there are days when everything is going to suck for no reason, but the rest of time is not too shabby at all. I would rather be sad up a mountain in Austria than sad indoors at home!
 Come morning we were frazzled. The wedding was not going to come to us, however, and we pushed on to Eisenerz and the towering Erzberg mine. The road wound its way up and around the scarred landscape and it took a morning of grinding to reach the top. At this stage I was fairly envious of Rosie's super low gearing, but we pushed on at a faster pace, using the rest stops to raid the Restrap snack pouch on my handlebar bag.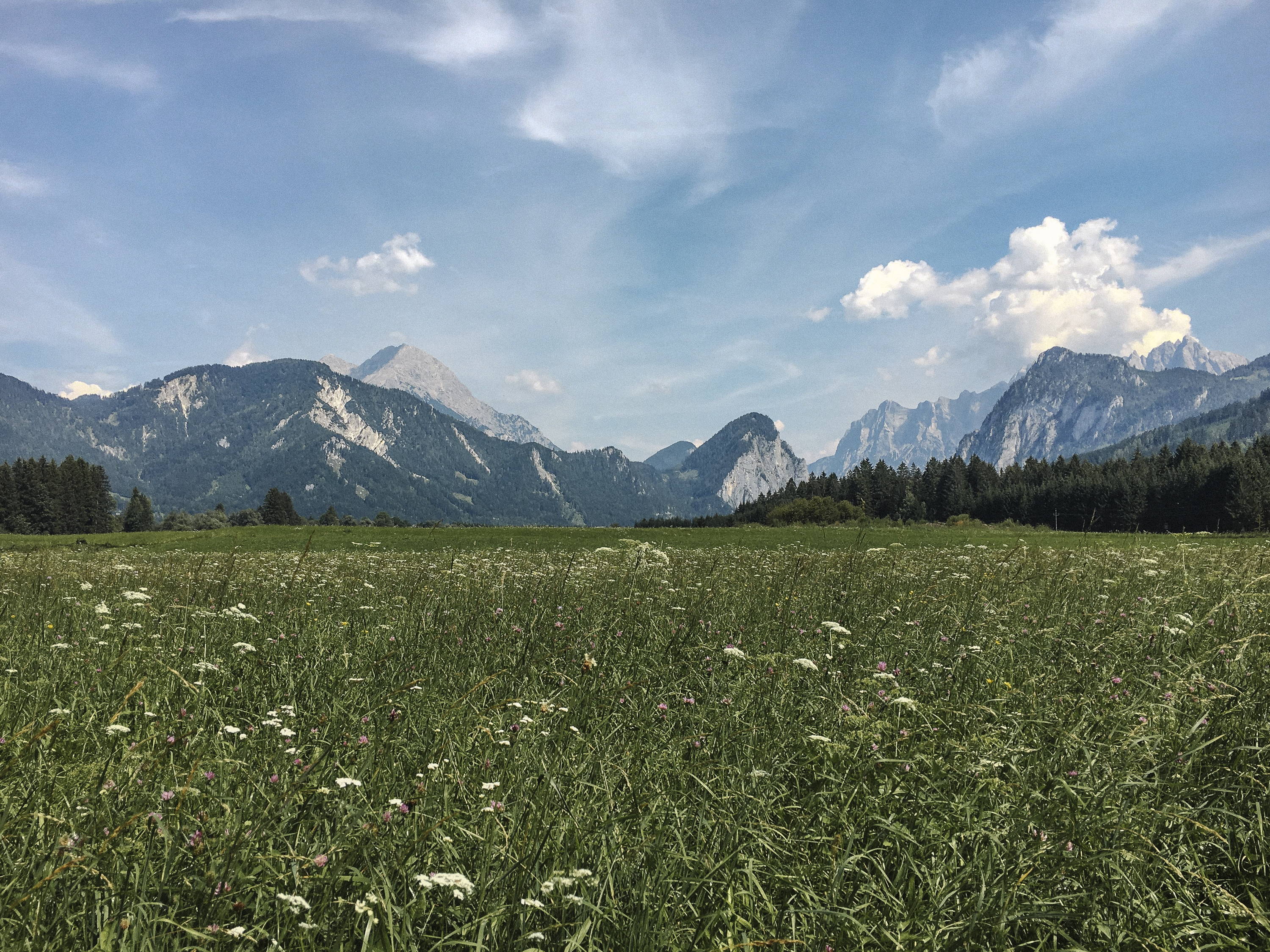 ---
"The next couple of days were like an endless Sound Of Music movie set: meadows, mountains, lederhosen & pastries."
---
The weather had been super dry and toasty, but this was the Alps and we were not too surprised when the first thunderstorm rolled in. These were seriously loud thunderstorms, too, so they played a fairly large role in our accommodation choice for the night. After finding a typically elevated and exposed spot to roll out bivvy bags and inflate matts, we were startled by flashes of lightning, highlighting the whole sky… but no thunder. It didn't take a genius to work out it was really far away, but that didn't stop me from freaking out. I did not want to get struck by lightning (I know the odds, don't laugh) and I did not plan on another sleepless night, full of adrenaline. We hurtled back down the hill in the dark to Bruck an der Mur (or was it Leoben? I can't remember) and into the most expensive night's sleep of my life in the only hotel room in town. This was another very good idea. As soon as the keys were handed over the heavens opened, and suddenly the bill seemed much smaller.
The end of our Alpine adventure was signaled by Preiner Gscheid pass. A hard sweaty morning of climbing the 1070m pass provided the perfect view and backdrop for photographing bikes. From here on out it was all downhill, passing through endless industrial towns to arrive at Wiener Neustadt and a seriously weird hotel next to a secluded airfield. Hotel Orange Wings is a strange, peaceful combination of off-duty pilots and acres of empty concrete. I felt oddly more at peace here than anywhere on the trip. Perhaps it was because we were nearing the end we could reflect on our achievements. We knew the best had passed, but what an amazing route we had taken.
The final day's ride into Vienna was very flat and monotonous compared to the constant challenges and rewards of the Alps. The going was slow but we carried on through vineyards, endless fields of sunflowers, and gravel tracks.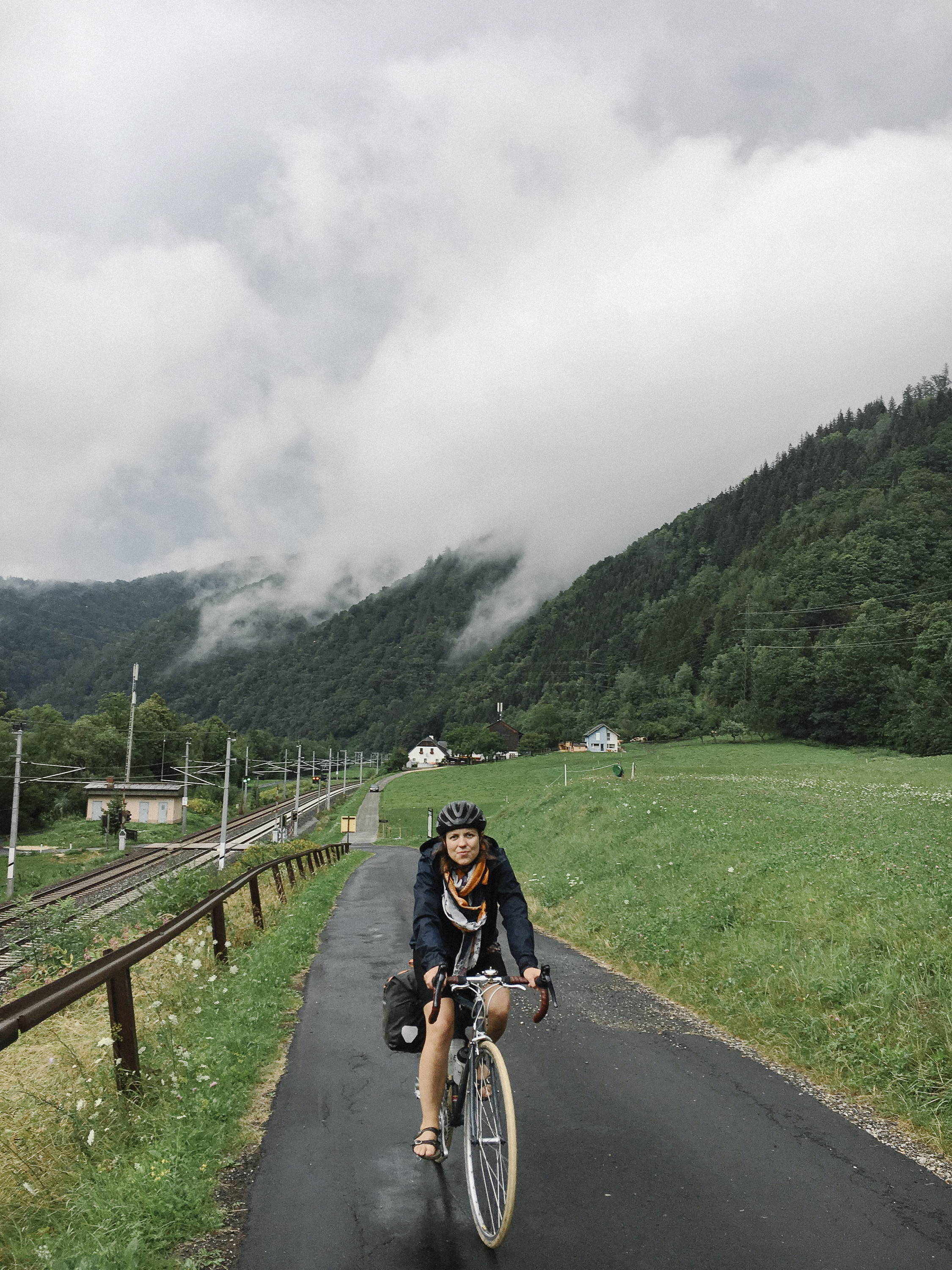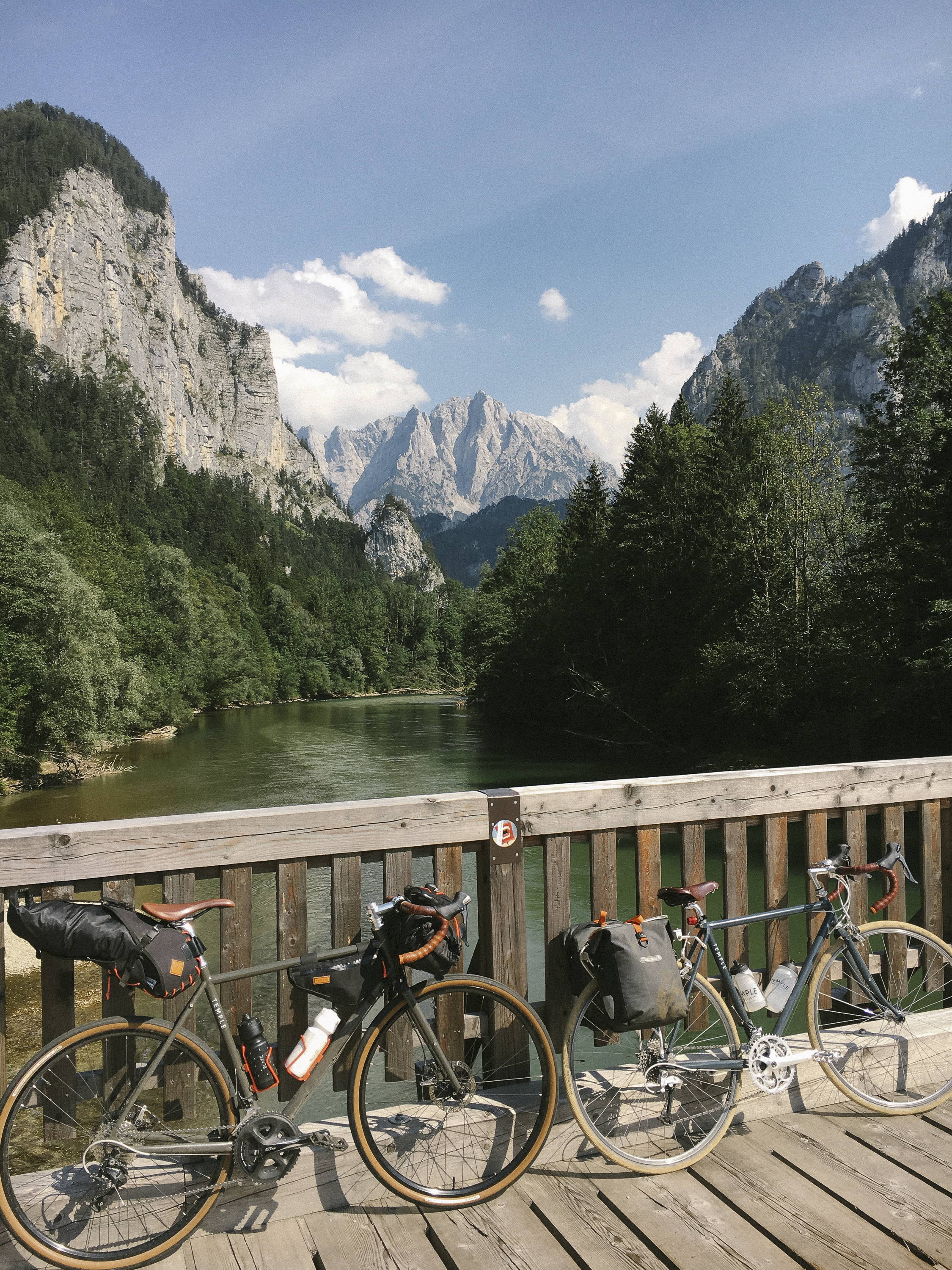 ---
Our bikes and equipment had held up without complaint the whole way. I was now a bikepacking convert and much prefer the distribution of luggage around the bike, impacting far less on the feel and handling of the bike than traditional panniers. This was also my second tour running tubeless Panaracer Gravel King tyres without a single puncture or loss of pressure to speak of.
---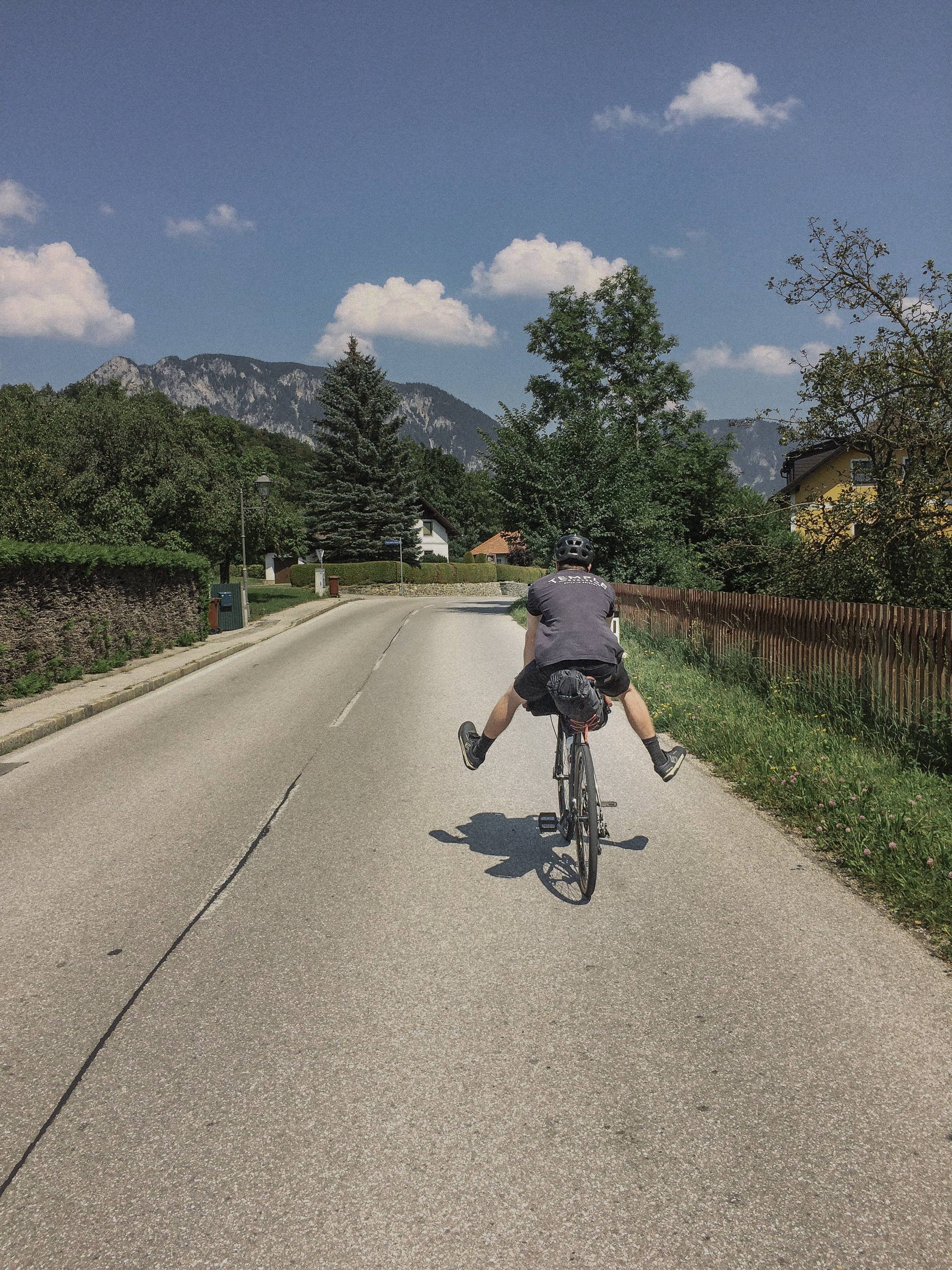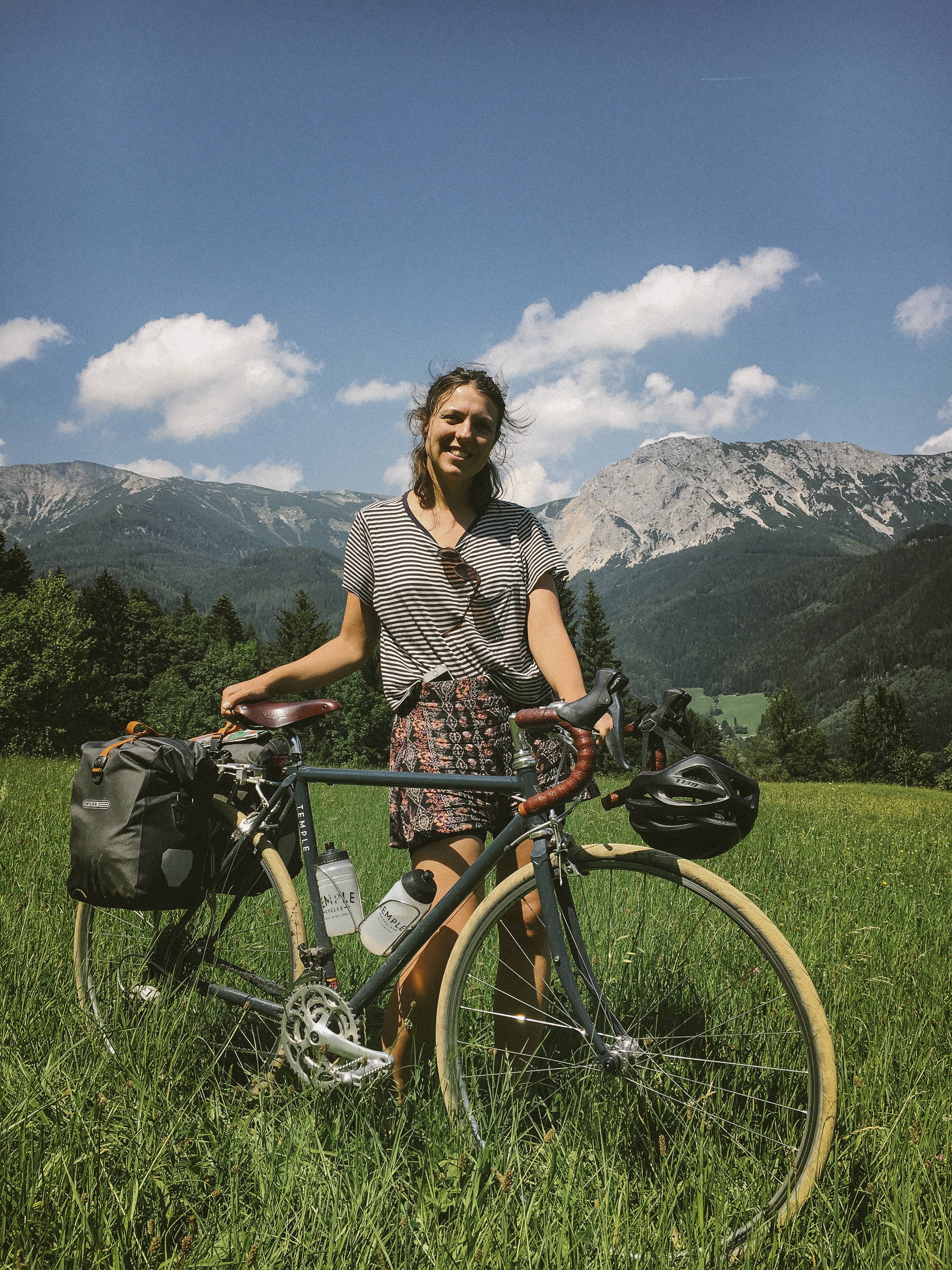 Tired and dusty, we rolled into Vienna, victorious! The wedding only a day away, it was mission accomplished.