A BIKE TOUR THROUGH THE OUTER HEBRIDES

If the thought of taking on a multi-day bike tour fills you with trepidation, we hope this account of a week-long biking adventure through the Outer Hebrides by our London Brand Manager Amy will help you to feel more informed and prepared.
Words: Amy Chapman-Taylor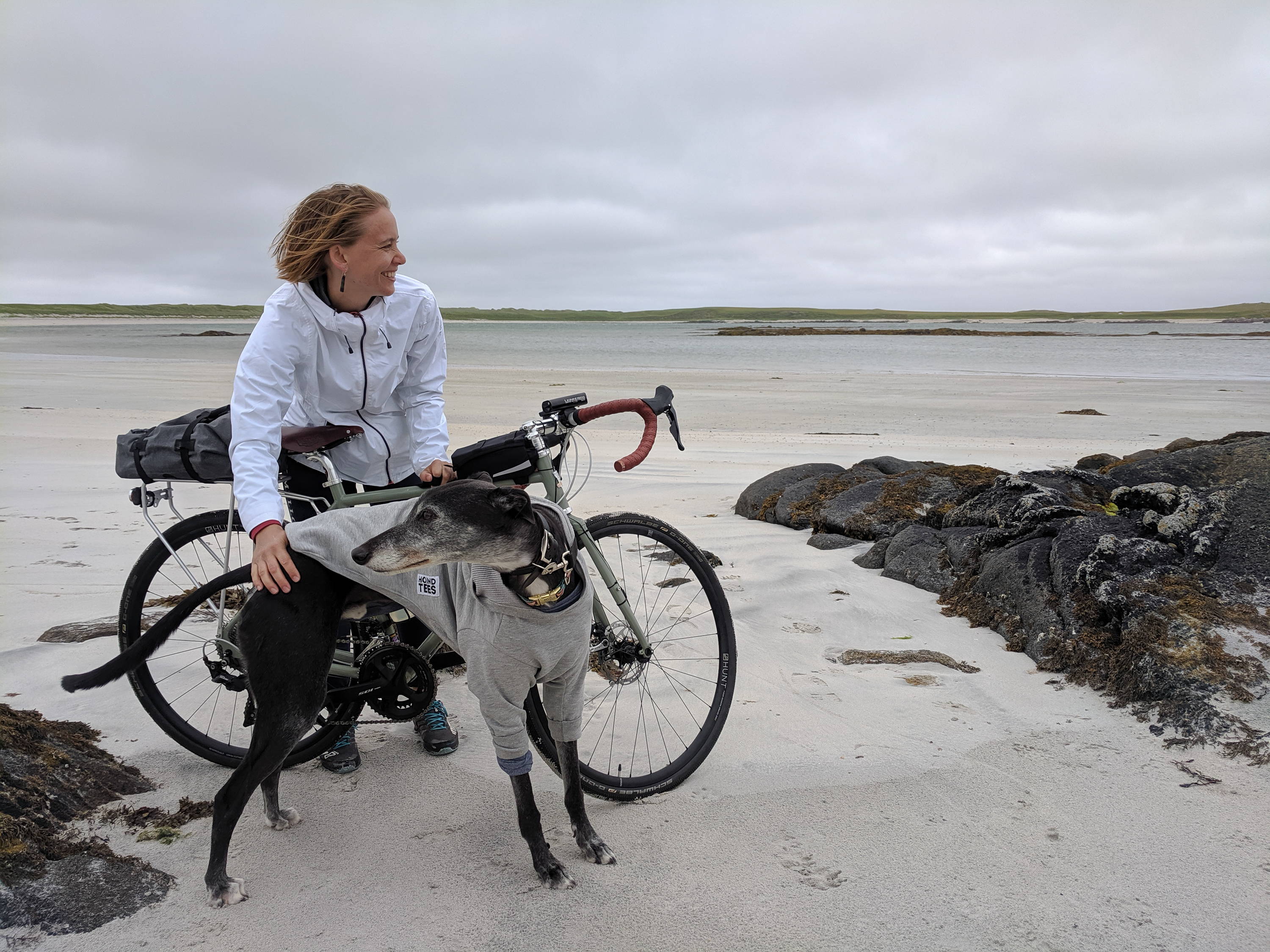 Our London Brand Manager Amy mid-way through her bike tour through the Outer Hebrides with her dog Nui and Adventure Disc 2 in Lichen Green.
WHY CHOOSE THE OUTER HEBRIDES?
Having dreamed about a brief escape from busy city life, myself and my partner James found ourselves with two new bikes (incidentally both Temple's Adventure Discs), and a longing to find adventure atop two wheels. However, the thought of planning our first bike tour had us both scratching our heads.
We are very different. James is athletic - tall, strong, rides fast and trains regularly. Whereas, when I ride bikes, it's strictly for fun. I don't train, I'm hardly strong and I'm not fast. It seemed like a considerable undertaking to find a route that would challenge us in equal measure, and allow us both to experience the joy and sense of empowerment that bike touring promised.
After wrestling with the purpose and detail of our first bike tour as a couple, we eventually settled on the Hebridean Way. A 185 mile (297km) traverse of the rugged archipelago that blinds to the western edge of the Scottish Highlands. Its appeal mostly came from the promise of Mediterranean-style golden beaches lining heather coated mountains. Although this route usually runs from Barra in the south to Harris in the north, we planned to arrive and depart from the southern port of Barra and travel there-and-back as far as we could go in a week.
A FEW THINGS TO CONSIDER…

Where should you stay?
We both have different comfort thresholds, which has a huge impact on how much gear to pack. We chose to camp, and packed a good amount of non-essential extras to ensure we all got a good night's sleep. We also opted for a more traditional bike tour set up (rather than bikepacking) as we prioritised home-comforts over pace.
---
---
How far do you want to ride, and how much effort do you want to put in?
I prefer long days of calm riding; James prefers shorter, harder bursts. The Hebrides works, as the route can be done in as little as seven days. There are a few hills to conquer along the way, although nothing unmanageable for a fully loaded bike.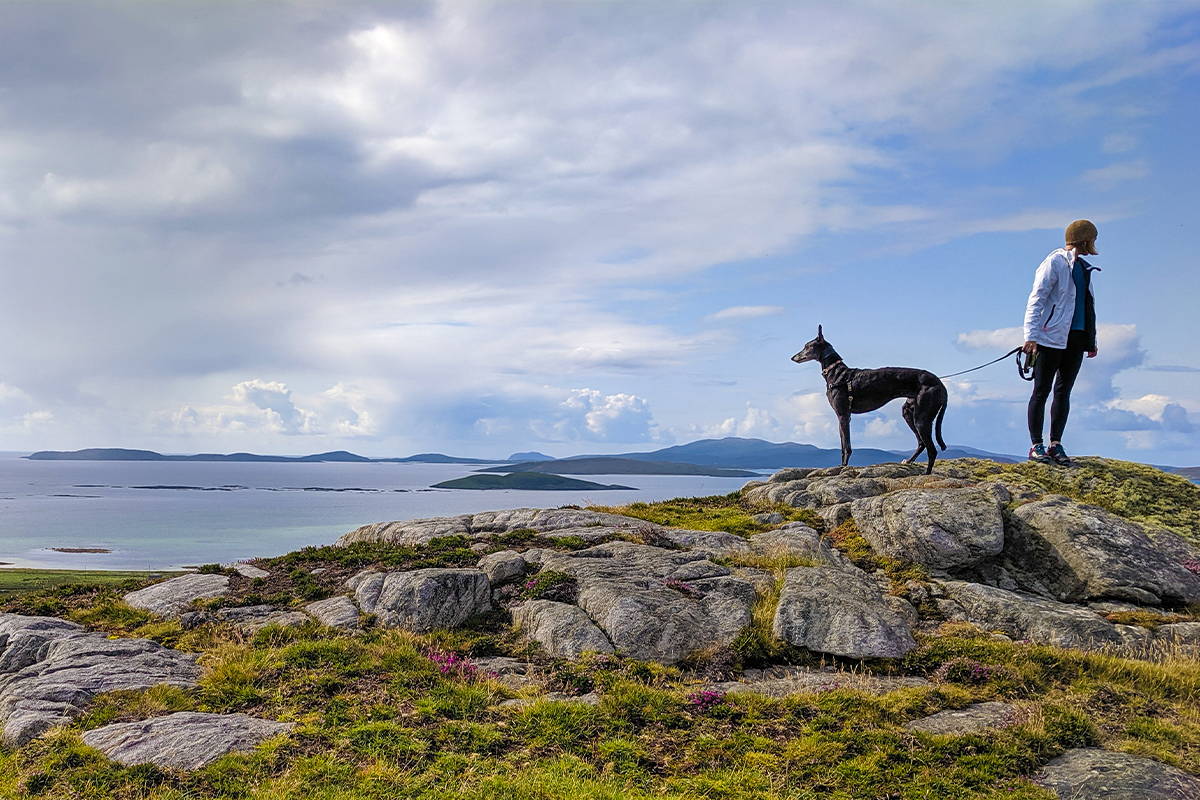 There are plenty of hikes to do when you're out of the saddle.

Swimming and spending time at the beach at the end of a long day spent riding.
WHAT ELSE IS THERE TO DO?

We also had our dog with us so this was easy - long walks and time at the beach. Usually, we would have more of a focus on local history or arts and crafts from the region - oh, and dining out! The Hebrides offers each of these things in buckets for those searching for a rich cultural experience rather than the quiet solace of a campsite that we chose.
---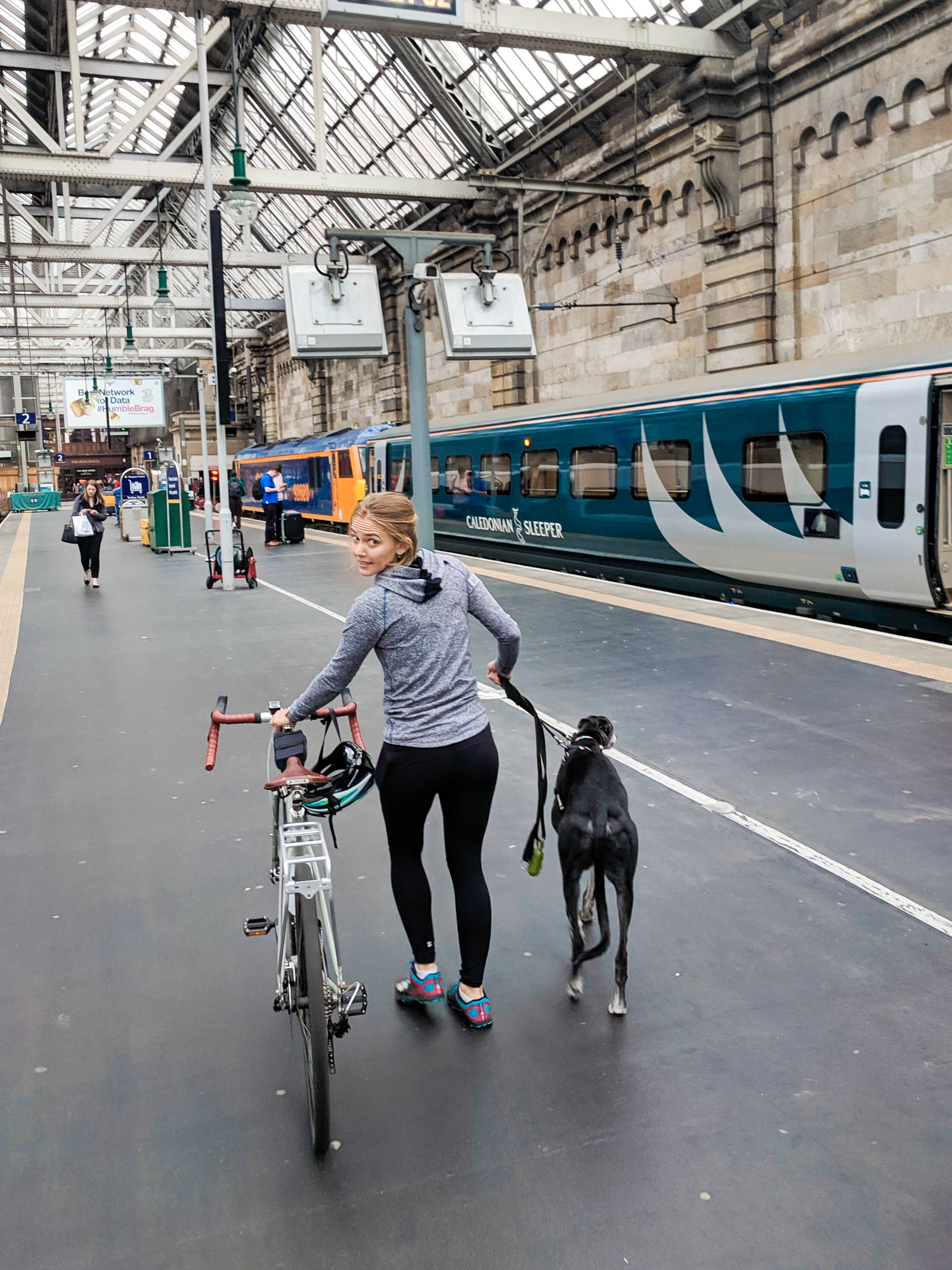 Establishing a routine and having specific roles can help when navigating getting on and off the trains.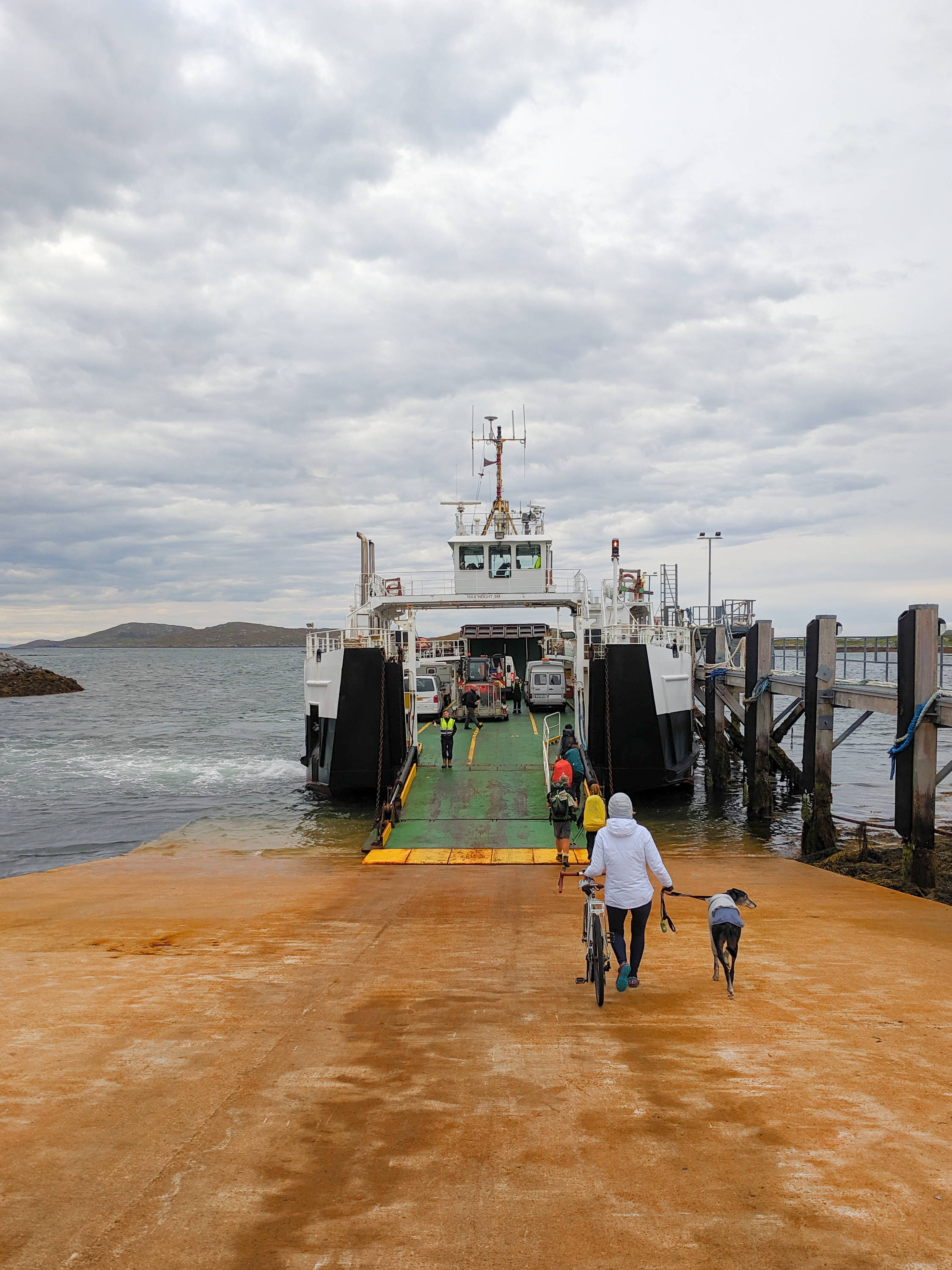 Boarding a ferry between islands.
HOW TO GET AROUND WITH A BIKE
Getting to the Outer Hebrides requires thoughtful planning from most parts of the UK - not least if you are at the other end of the island in London. We opted for an overnight train to Glasgow, then another ScotRail train to Oban, with ferries along the Hebridean Way. The Caledonian Sleeper is an excellent way to use the long journey to get some sleep in, allowing you to wake up rested and ready for the adventure that lies ahead.
The hardest part of getting there and back wasn't reserving bike spaces on the trains, or panning ferry crossing times, but simply boarding and disembarking them. Wrangling our luggage and bikes on and off is a physical feat in itself.* While our practice rides along the Thames Path showed us that unclipping panniers, bundling equipment, and moving the bikes around a range of obstacles were easy enough - the added pressure of boarding on busy platforms, navigating unknown stations, and working to tight deadlines was a part of the journey that deserved just as much attention as the riding itself.  
Aside from the public transport hustle and long train rides, the rest of the journey was a pleasure. The ferries (both long and short) showcase green isles dipping their peaty toes into the waters of the Sea of the Hebrides.
*This all depends on your luggage set-up and whether you dependents (human or canine), will change things.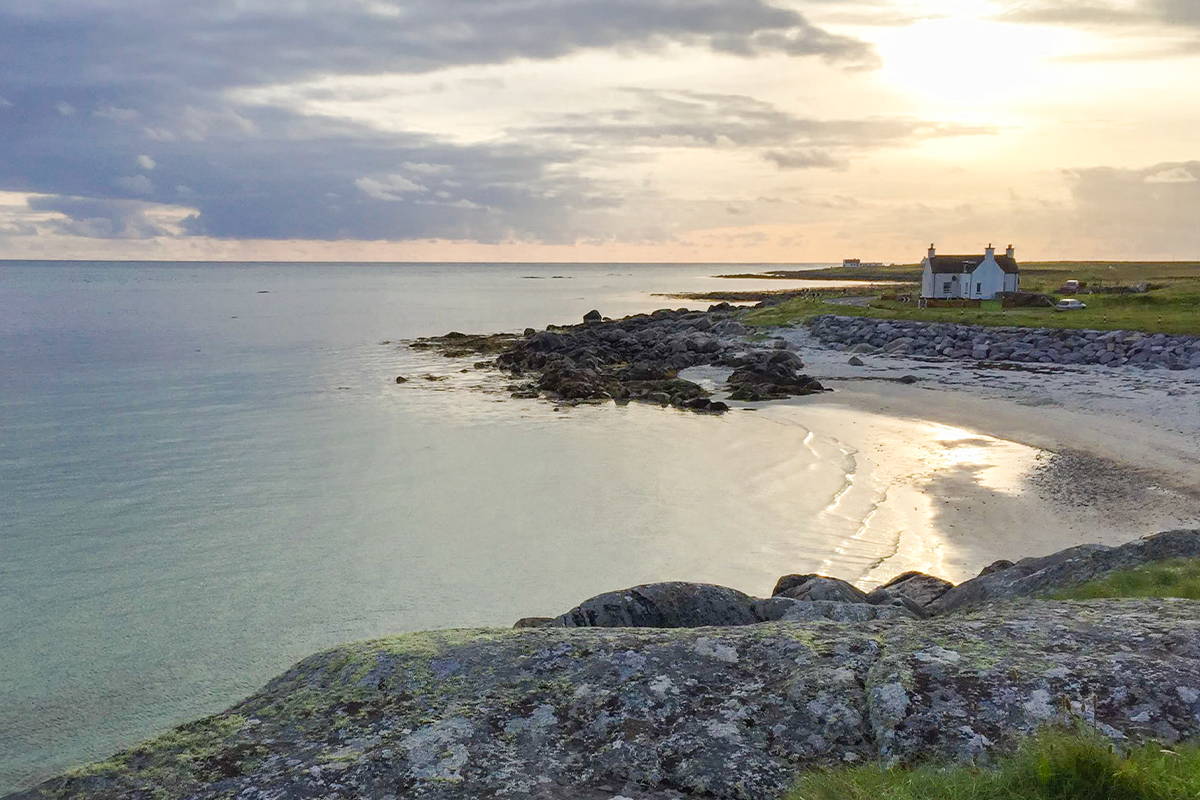 Slowing down and picking a base for a couple of days gave us the chance to get out without all of our heavy kit, and explore specific areas more deeply.
PLANS CHANGE AND THAT'S OKAY
Our initial plan was to cycle up and back, in little more than the time it takes for the standard five-day one-way trip from South to North. We would cycle for as long as we could each day, only stopping to camp, cook food, and sleep.
However, by day three, we knew that we needed to make some changes. We were relying on the prevailing South to North wind to carry us along the roads quickly, but a series of unlucky weather fronts had other plans for us. The time we had allocated for travelling North would have us in a headwind the entire way (not to mention that torrential rain that we packed for). And, the forecast said that as we were due to turn back south, the gusty winds would also turn and remain in our faces until we reached our Ferry back in the south. With sailings booked up and unable to change, we had to decide between very long days charging into all the wind that the Atlantic could throw at us, just to say that we "did it" - or we accept that we couldn't do it all (this time), find a base for a few days, and explore local beaches and hills. We chose beaches and hills.
Ultimately, we chose to cherish the journey shared - with busy lives and jobs awaiting us in London, it was an absolute privilege to use our bikes to access adventure and new places, and to take stock of our health and wellbeing too. Exercising, sleeping, swimming in the cold Atlantic. After all, there is a time and a place for racing and off-the-grid wilderness on a bike - but striking a balance and marvelling at the journey can be just as important.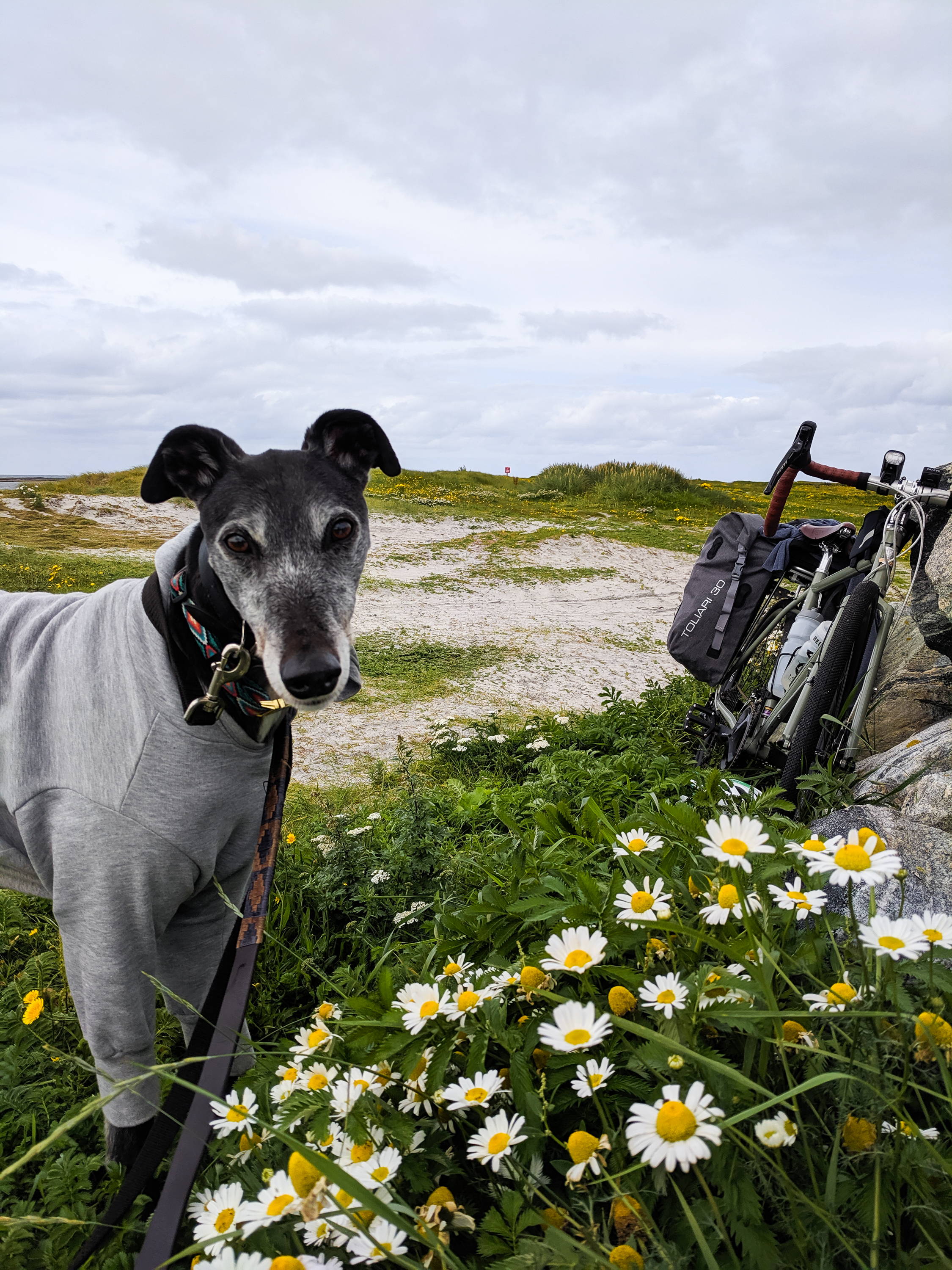 Amy's rescue greyhound Nui naturally came along too.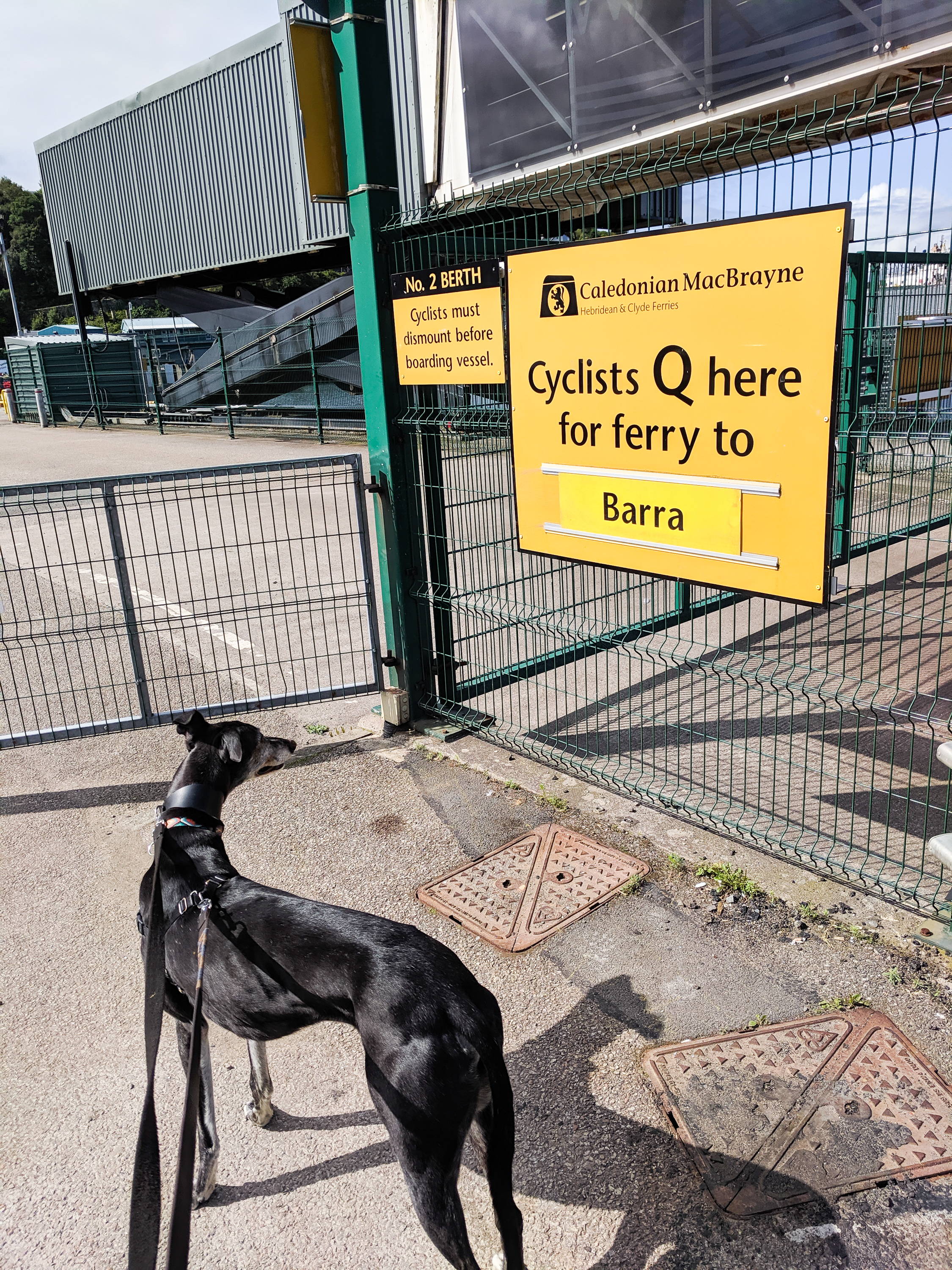 Queueing for the ferry from Oban to Barra
BRINGING A DOG ALONG FOR THE RIDE
Taking our dog along on a bike tour was an absolute no-brainer for us. But we knew that it would be a challenge to take Nui (a rather-large, rescue greyhound) away in a trailer. Many things go into planning and taking a dog on tour, but briefly, here are a few of the things that we took into account:
Where to stay
Although many places are dog-friendly these days, the options on small islands are fewer than on the mainland, so camping seemed to be the safest bet. We went for a mix of official campsites, and wild camping.
Extra weight
Adding in a 40kg dog, two weeks of dog food, bedding, and other canine essentials meant the additional weight stacked up fast. Depending on the energy levels, age, and personality of the animal, some dogpackers have their energetic pals run alongside on quiet or off-road sections to help share the load.
Mechanics
There are a range of different options for travelling with bikes and dogs - trailers and baskets of all sizes. We went for a closed trailer option to help keep Nui calm and protect him from the elements.
Logistics
Like many other aspects of adventurous journeys; routine and pre-established plans for pinch-points are essential. Knowing the how to get the dog, bikes, trailer and luggage on and off train carriages is essential. We practised towing, packing, and transport scenarios before we set off. Starting with nights in the trailer at home, journeys across Clapham Common, and full days out along the Thames Path with return journeys on the train.
Since our trip to the Hebrides, we have taken our beloved friend on a whole range of bike-based adventures and loved every minute of every journey.
---