GREENWICH TO BOTANY BAY BY BIKE

When the late-summer lure of a dip in the sea called, Susie and Laila from our London Store hopped on their bikes and left London in favour of the British coastline. In this Temple Journal entry, you can follow their 122km day trip on two wheels to Botany Bay whilst picking up some tips and tricks for your own city-to-sea bikepacking expedition.
Words: Susie Scott and Laila Ozolina
Since this summer began, we had been wanting to cycle to the seaside for a swim. Having attempted several hilly routes earlier in the season via the mountain biking trails of the South Downs (we had naively assumed that the mountain bike and gravel routes would be similar terrain) we eventually opted for an easier and flatter passage.
Komoot is great for navigating and using tried-and-tested routes that other people have recorded. It is also helpful in creating a fresh route, which is what we did. We chose Botany Bay in Broadstairs, partly because it sounded slightly magical, and a few friends had recommended it as a destination. We selected the gravel option for the route type, and amended it at a few points in order to have more of the route along the coast.
Now that we had mapped out our journey, we could start planning the other elements of our ride. It should go without saying, but when preparing for a longer cycle, some prior organisation is super important to make sure you feel comfortable and ready to tackle the unknown adventure. We split this into three categories: bicycle, food, and clothing.
We both used our Adventure Discs for this particular trip, but any bike with a good amount of gears would have easily sufficed. Although the route was mostly flat, there were a couple of hills which came as a bit of a surprise!
As far as technical items for the bike go, we always carry extra inner tubes. One per person is enough for a 100km+ ride, assuming your bike has good tyres. If you have a tubeless set up like Susie, bring some plugs for smaller punctures, but remember you can still use a tube. A multitool is non-negotiable, and if your wheels are nutted, pack a 15mm wrench.
Next, you'll want a good pump (we use the Blackburn Mini) or some CO2 canisters for an efficient way to inflate your tyre to a high pressure. Two tyre levers are a must, and if you're averse to grubby hands, bring a pair of gloves. If you're anything like us, your ride will take longer than expected, so take a good set of lights in case you have to make your return journey in the dark. If you're using a phone or a GPS gadget for your route, it's always worth bringing a battery pack in case they run out of juice.
Before you set off, it's also worth carrying out some health checks on your steed. Simple things like checking your brake and gear function, tyre pressure and adjusting the seat positioning can all really enhance your riding experience. You should also get into the habit of checking that your wheels are tight. You'd be amazed at how often people ride with slightly loose wheels!
---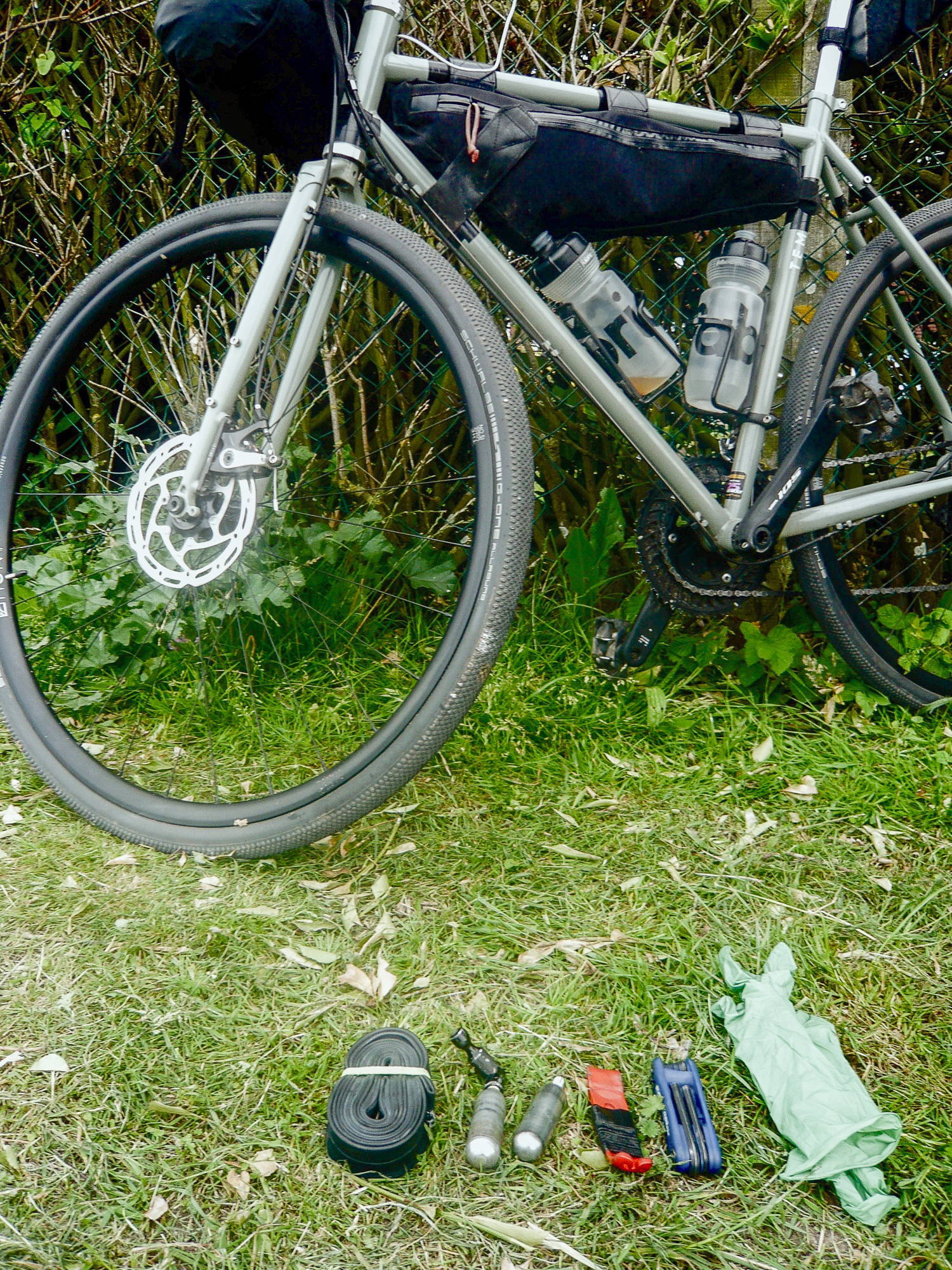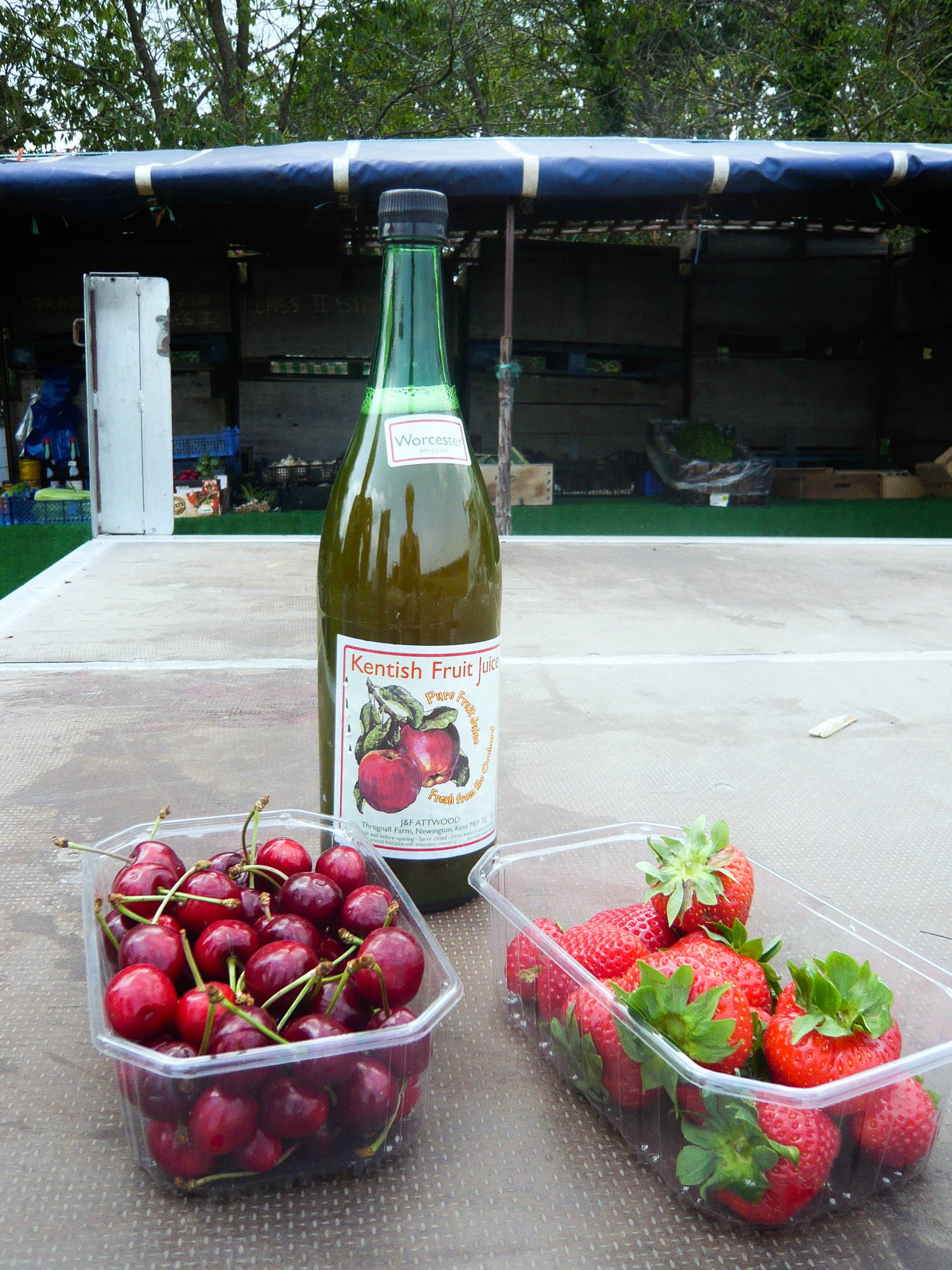 It's better to be over-prepared, because you'll be using lots of energy over a long period of time, so you'll want to make sure you don't run out of food. Needing no excuse, we each packed a big bag of trail mix, as well as a Jamaica Ginger cake for a glucose-filled punch (one of the few foods which still looks appetising after being squished in a handlebar bag!). Clif Bloks are another personal favourite, they're caffeinated and have been known to give the feeling of a fresh pair of legs even after a long hill climb.
For a ride this long, you'll also want to keep hydrated with a couple of water bottles. There's usually somewhere to refill on the way, but there's no worse feeling than running out on a hot day.
---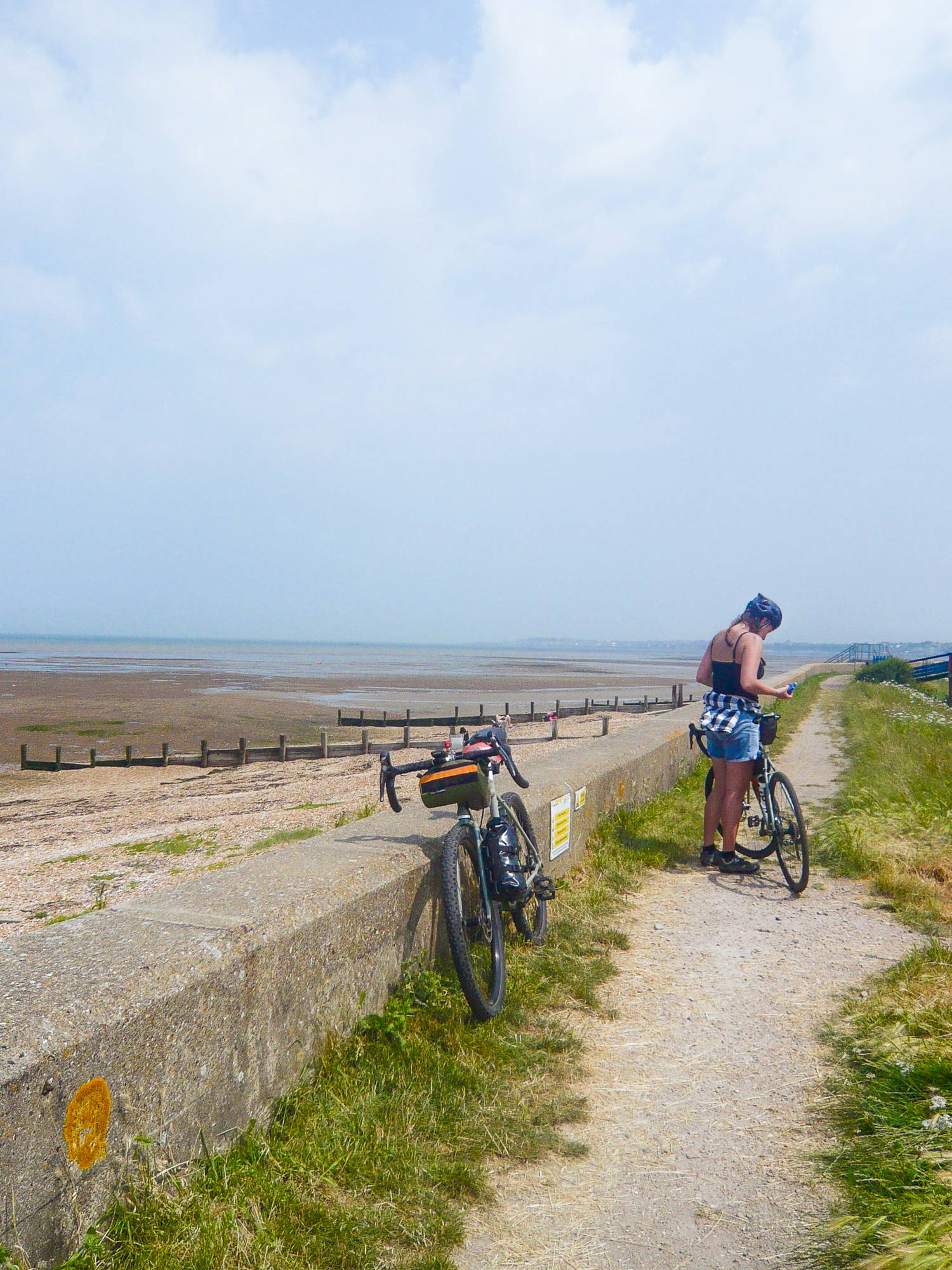 We set off on what happened to be one of the hottest days of the year, so we only had to take a light extra layer for the evening. Our main agenda was swimsuits and towels, for a well-deserved dip upon reaching Botany Bay.
It's good to invest in a couple of bike bags to avoid a rucksack-induced sweaty back. We both had a handlebar bag (great for general accessibility and snacks), as well as other bags mounted elsewhere on the bike.
---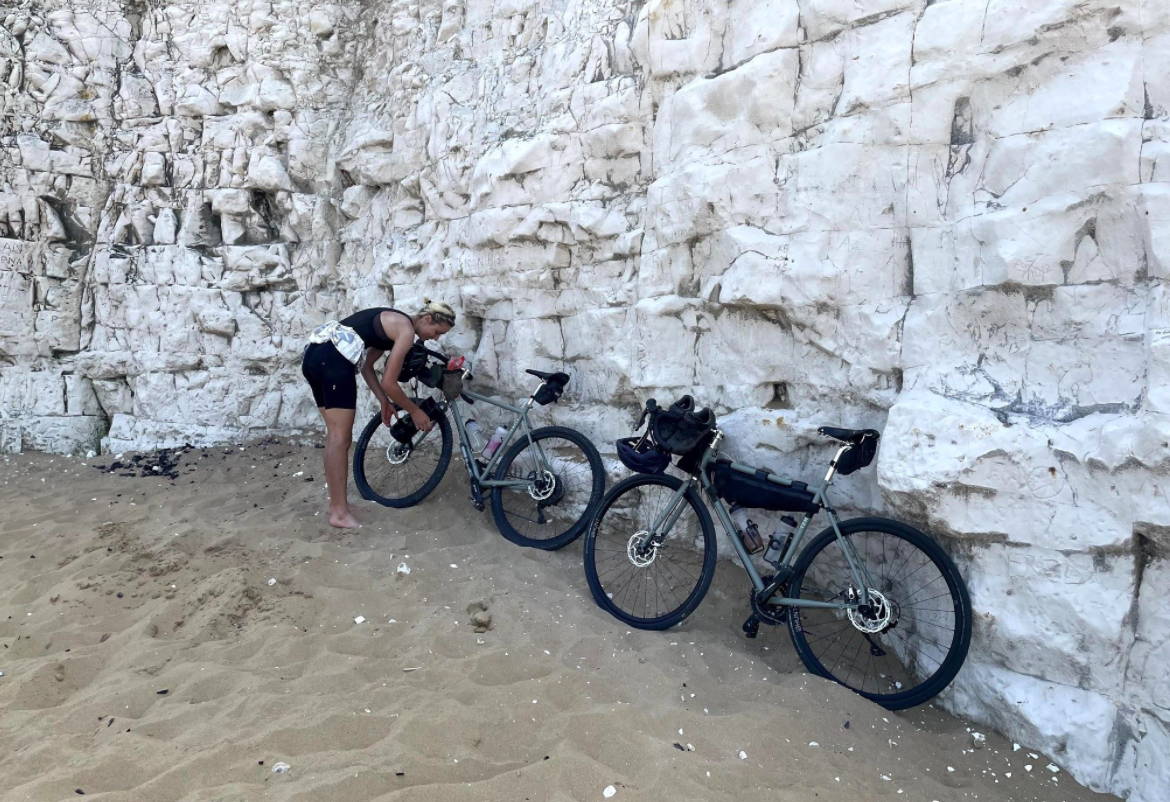 We started at 8am at the Greenwich Tunnel, that being the midpoint for us both. Komoot predicted that the 122km ride would take us 7.5 hours (at a relaxed pace), and having previously learned that Komoot don't lie, we planned our day accordingly.
Another learning curve came when we began to regret not thoroughly checking our route beforehand. Although we thankfully weren't bouncing around on the mountain biking trails of the South Downs, we did spend the first half of the trip alongside main roads and motorways (though on a cycle path). In hindsight, we would have amended the route to go on the Thames path for as long as possible. But hey, we walked so you can run!
About 40km into our ride, the heat of the day had gotten the better of us and our water bottles were already empty at this point. Luckily though, we soon stumbled upon the Cyclopark in Gravesend, where we were able to refill, use the facilities and resume our ride feeling a little more refreshed.
As we continued, the route took us along more cycle paths alongside main roads for a little, before taking a welcome turn into windy and wooded country roads. Our surroundings at this point were so green and beautiful, and we were so in awe that we completely forgot to take any photos! Things got even better just after Faversham, when we were met with a fresh fruit and vegetable stall on the side of the road.
We'd been looking for a pit stop to refuel for a while, and were expecting to have to settle for a pub to get a pint of coca-cola, so we were absolutely delighted to stumble upon this gem. We treated ourselves to cherries and strawberries, before filling up our water bottles with this magnificent apple juice and continuing on our way.
The route now stuck to quiet country roads and we could see the sea in the distance. It was a happy moment!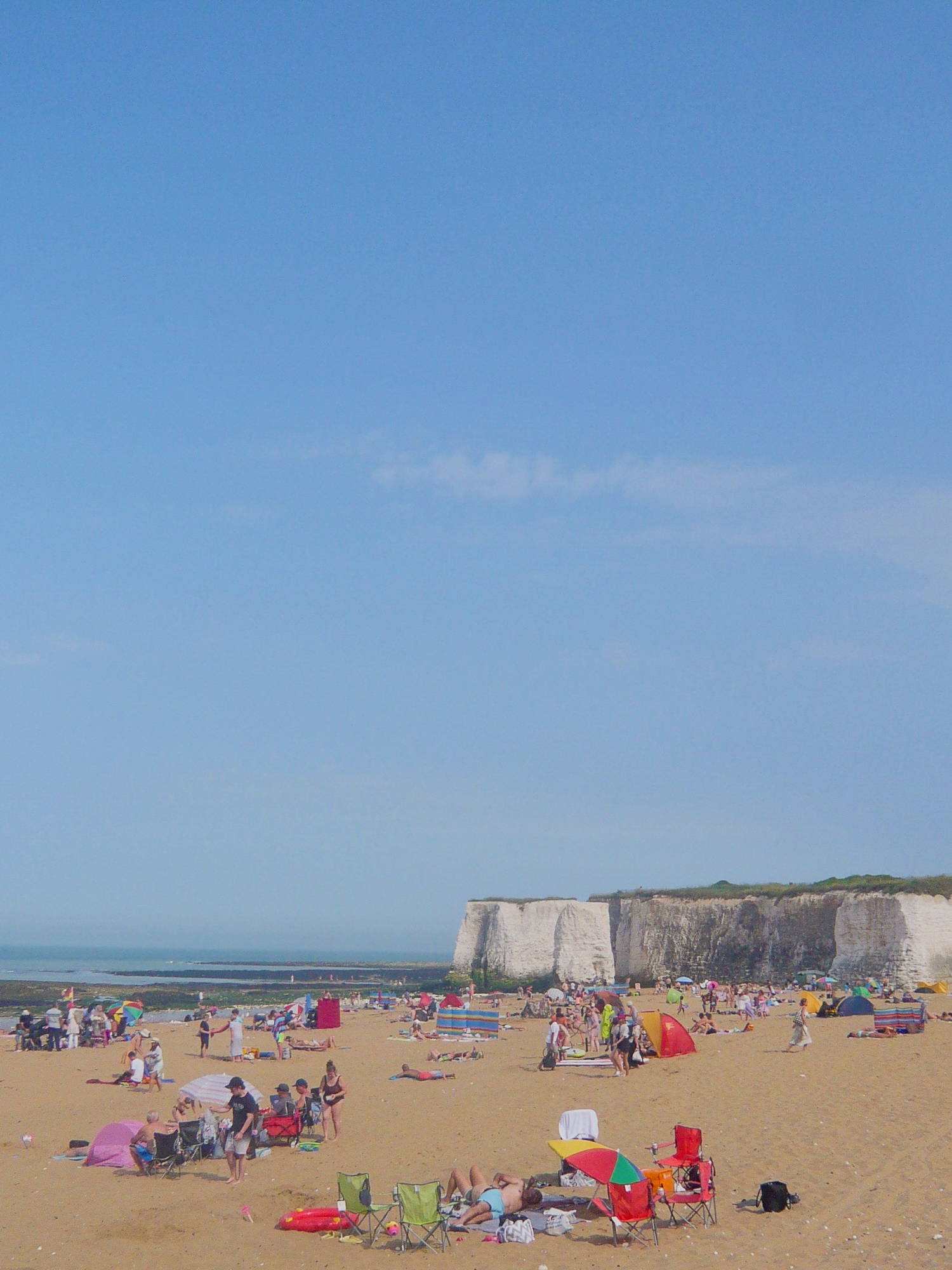 We finally got to the coast just before Seasalter, and the remainder of the route took us alongside the sea. Although we felt the finish was near, in reality we still had about 40km to go. It was very windy, but the promise of the magical Botany Bay kept us going. We rode along the coast for a couple of hours (the time flew by), before finally arriving.
We went for a dip in the sea, but quickly learned that Botany Bay is not great for swimming. The beach itself is nice, however the path into the sea is filled with sharp rocks, covered in even sharper barnacles and slippery seaweed. But still, we were pleased to go and have a paddle in the refreshing saltwater for a moment.
We then got back on our bikes, and went off in search of some real food. We cycled on towards Margate and then Ramsgate, in pursuit of good fish and chips. We found what we were looking for in Broadstairs, at a place called The Seafarer. Having completed a big ride beneath the beating sun, it seemed fitting to then conclude our culinary quest with some of the best ice cream in the area. Sorbetto in Ramsgate, right by the harbour.
So there you have it, our journey from London to Botany Bay. Admittedly not the most spectacular route we have done so far, we know that having a great cycling partner can make any ride fun. We always manage to make the most of it, and try to see the beauty around us. Besides, any cycling experience is a good experience. This time, we learned how to stay composed and positive while riding alongside a loud motorway. It's all about how you spin it!
---