WHICH SADDLE SHOULD I CHOOSE?

Buying a bike doesn't have to be complicated, but choosing the right saddle can be make-or-break in terms of comfort. The Temple Team have given their thoughts on each of our saddles from personal experience to give you more of an idea of which one will be best for you and your bike.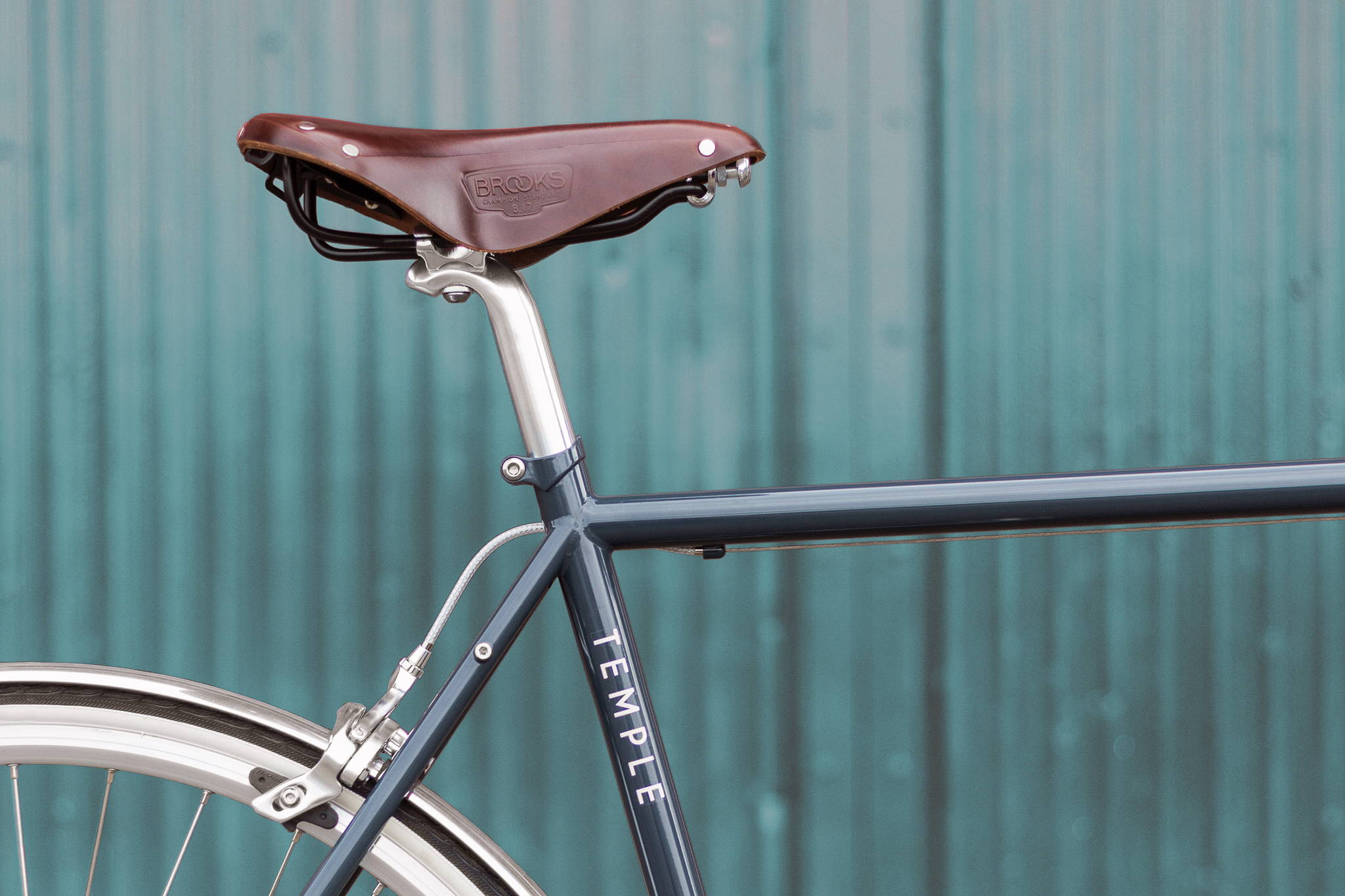 The Brooks B17 Saddles are made from a thick piece of leather formed over a metal frame, and are the go-to for many cyclists for their long term comfort and durability.
Choosing a saddle shouldn't be complicated, and we offer a range of options to suit you, your bike and your riding style. We hope that these real-life examples from our very own Temple team will help you choose something that you're really happy with so you can get on with enjoying the ride.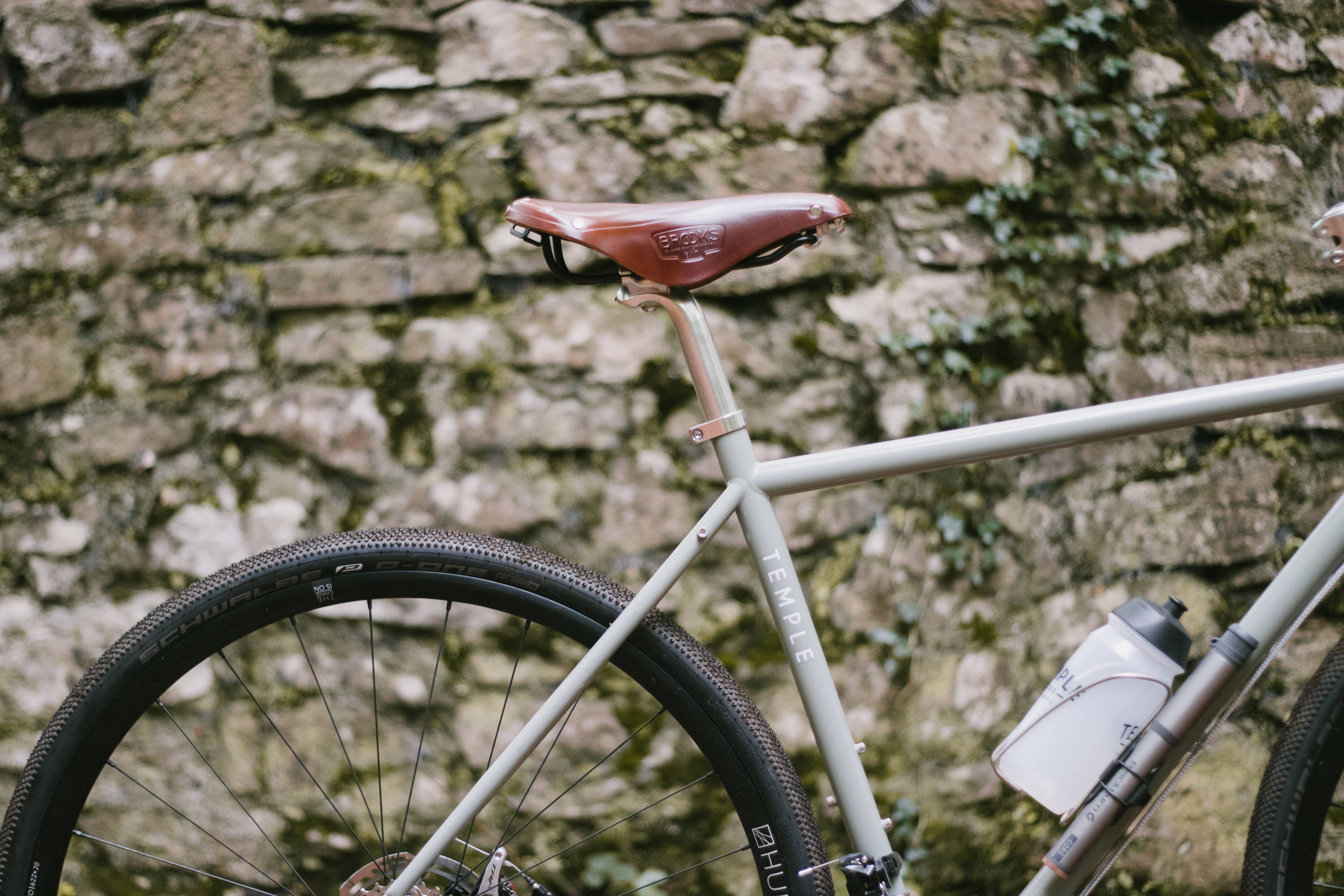 NOAH, OPERATIONS MANAGER - BROOKS B17

When I first started at Temple the bike that fascinated me most was the Classic Tour. It was practical without being boring, speedy without being aggressive and comfortable beyond belief. This bike is sort of the distilled essence-of-a-bike, and needless to say, I was not disappointed. The Classic Tour is my go-to bike for pretty much everything. I'll commute to the office, ride with friends and even do some (light) off-roading. I added a couple of custom touches like the front bag and rack for added practicality and extra sandwich capacity (very important).

The Saddle I chose for my build was the Brooks B17. It's a pretty iconic piece of design in bike circles that's remained the same for about 100 years so it seemed the perfect fit for my build.

It's pretty commonly known that Brooks saddles are a bit of an investment. They start off pretty hard and slippery but slowly form to your body and you with use. They normally take around 150 - 200 miles to break in properly but once you've got through this they are the most comfortable, plush saddle you could wish for. The leather topper hangs like a hammock between the steel rails giving you a perch that's comfortable for riding all day long.

The best thing you can do to look after your Brooks saddle is to try and avoid getting it very wet underneath. If you're opting for this saddle then think about fitting mudguards to your bike too as this will offer added protection. It's no problem if your saddle does get wet, you just need to make sure to let it dry out properly. There's also a saddle conditioner available from Brooks called Proofide. I tend to use this very sparingly if the saddle starts to get dry, however, this is pretty easily avoided by regular use.

---
---
SALLY, MARKETING MANAGER - BROOKS B17s

I spent a long time deliberating over which bike to choose, I hadn't cycled much since I was a teenager and so I was a little nervous about taking on the city on two wheels. I also live up an enormous hill so I needed something that would get me home with ease. I eventually decided on a Step Through Tour with riser bars as this ticked all the boxes for me in terms of function and aesthetics (very important). It has lots of gears so no hill seems too daunting, but I've still got a comfortable neutral riding position and good visibility.
I spent almost as much time choosing the saddle, and after trying out pretty much every option in our workshop, I decided to go for the Brooks B17s. Not only does it go really nicely with my Slate Blue bike, it's also really practical. The B17s is designed with female riders in mind, with a slightly broader and shorter shape than the B17 which I've found to be really comfortable.
In terms of maintenance, it's actually really easy to keep clean (although I only really take my bike around town so there isn't a lot of opportunity for mud splatters), I just condition it every so often with Brooks Proofide and don't worry about it too much. I will say it took a while to start feeling softer, so be prepared to be a bit sore at first, I promise it's worth it!
---
SUSIE, LONDON STORE - BROOKS C17

If it's two things I won't compromise on when it comes to cycling, it's having plenty of snacks and a good, comfortable saddle! I use the Brooks All-Weather Cambium Saddle in black on my Adventure Disc 1 and it has certainly diminished any previous nuisances that I used to experience with other saddles in the past. If I'm being honest, as a woman, I was a little bit worried that the shape and lack of cut out would become a problem, and result in a sulky Susie waddling to a nearby supermarket, begging for a bag of frozen peas.

If anything, the saddle has actually improved my longer day trips in-amongst the London bordering woodland; the vulcanised rubber material naturally absorbs the bumps from gnarly roots and diffuses vibrations to make it feel like a smoother ride. As the name suggests, the saddle can withstand Britain's turbulent weather forecasts because of its nylon waterproof top and I now look forward to my post-ride clean downs as it is so easy to maintain and look after.

Aside from function, I really love the sleek, stylish design of the saddle; it unquestionably adds a level of sophistication to my bike. The great thing about this saddle is that it's very versatile and wouldn't look out of place on any bicycle, whether it be a single speed for town or an adventure bike for the country. At the end of the day, saddles will always be a personal preference but in terms of look, comfort, durability and materials, this one ticks all the boxes for me.
---
---
DEXTER, OPERATIONS OFFICER - BRISTOL SADDLE

I've been riding with a black Temple Cycles Bristol Saddle on my daily commuter for the last 2 years. I've always preferred a sleeker saddle with a more contemporary silhouette and I think it works well on my Classic Lightweight. I've ridden similarly shaped saddles on all of my bikes for years and immediately got on with the comfort and support which the Bristol Saddle provides.

The shape and padding are actually the same as the world-famous Charge Spoon saddle, which I know a lot of people love and get on with really well. It's just the right length in the nose to give ample support and control while cornering and when paired with some padded cycling shorts, gives me all-day comfort for those longer rides. I really like the amount of flex the saddle has and when this is combined with the fairly minimal padding, a nice level of comfort is achieved.

My Bristol Saddle puts up with a lot of abuse, being the saddle of choice on my daily workhorse, I have found it to hold up really well. The tough vegan leather can shrug off a scuff or two with no problem and it's also fully waterproof.

I would say though that this saddle isn't ideal for everyone, and a lot of our female customers don't get on with it, and much prefer the Comfort Saddle which offers more padding and a more ergonomic shape, however, 95% of our male customers who choose this saddle and are really happy.
---
---
LAILA, LONDON STORE MECHANIC - COMFORT SADDLE

I find the Comfort Saddle to be the comfiest out-the-box saddle that we do and I use it on my town bike. It works really well on our Step Through bikes or anything with a swept-back handlebar and a more upright riding position. This is because more of your weight will be going through your bum, so the extra padding on this saddle really works well in this case.
It's the saddle that we recommend for most of our customers who are most concerned about comfort, as pretty much everyone will find it doesn't give them any trouble. While it isn't as sleek or traditional-looking as some of our other options, it still looks really nice and works well with the aesthetics of most of our bikes.
I really like the little details on this saddle such as the minimal stitching pattern, the Chromoly rails and also the embossed Temple logos at the nose of the saddle that all make it feel quite premium. I've worked in bike shops as a mechanic for many years now, so it's safe to say that I've seen a lot of different saddle designs and spoken with hundreds of customers about saddles too. The Comfort Saddle really impresses me, especially at the price point and with its overall quality. There isn't really a better option out there if you are looking for something that looks good and delivers on comfort straight away.
---
---
Keeping Things Simple
Choosing a bike doesn't need to be confusing, we've thought about the details and designed a versatile range of do-it-all bikes so you can focus on enjoying the ride.  
---