WHICH ADVENTURE DISC IS RIGHT FOR ME?

Each of our three Adventure Disc bikes is equipped with thoughtfully considered componentry to suit different riders. In our latest Temple Journal piece, Amy from the Temple team breaks down their differences to help you decide which of these bikes is right for you. ⁠
Words: Amy Chapman-Taylor
WHAT MAKES AN ADVENTURE BIKE GREAT?
It's 08:45 and the gas stove has just flickered on for the third time to make yet another pot of coffee. We are passing time until there is enough light to allow us to navigate the sodden gravel paths through the fog. Strong winds blow in a winter storm, and the icy rain lashes my skin. But, the soft lichen-green of my frame still manages to shine in the murky light of a mid-December morning, spurring me on.
Setting off down the deeply rutted track, I feel a sense of security that comes from riding a steel bike, but not just any steel bike. The Reynolds 725 heat-treated tubing that makes up both frame and fork is dependable, and the ever-durable Hunt 4 Season wheels hold their own in a winning combination. To this end, I know that I have the reliable stopping power of disc brakes at my fingertips. The perfectly planned geometry (drawn from vintage classics, timeless road bikes and modern gravel rides) gives me the confidence to push a little more into the corners and down the valley, effortlessly handling the varied terrain with 42cm flared bars in my hands.
Reynolds 725 tubing is heat-treated to add extra strength. This allows the Adventure Disc to be taken more places without worrying about damaging the frame.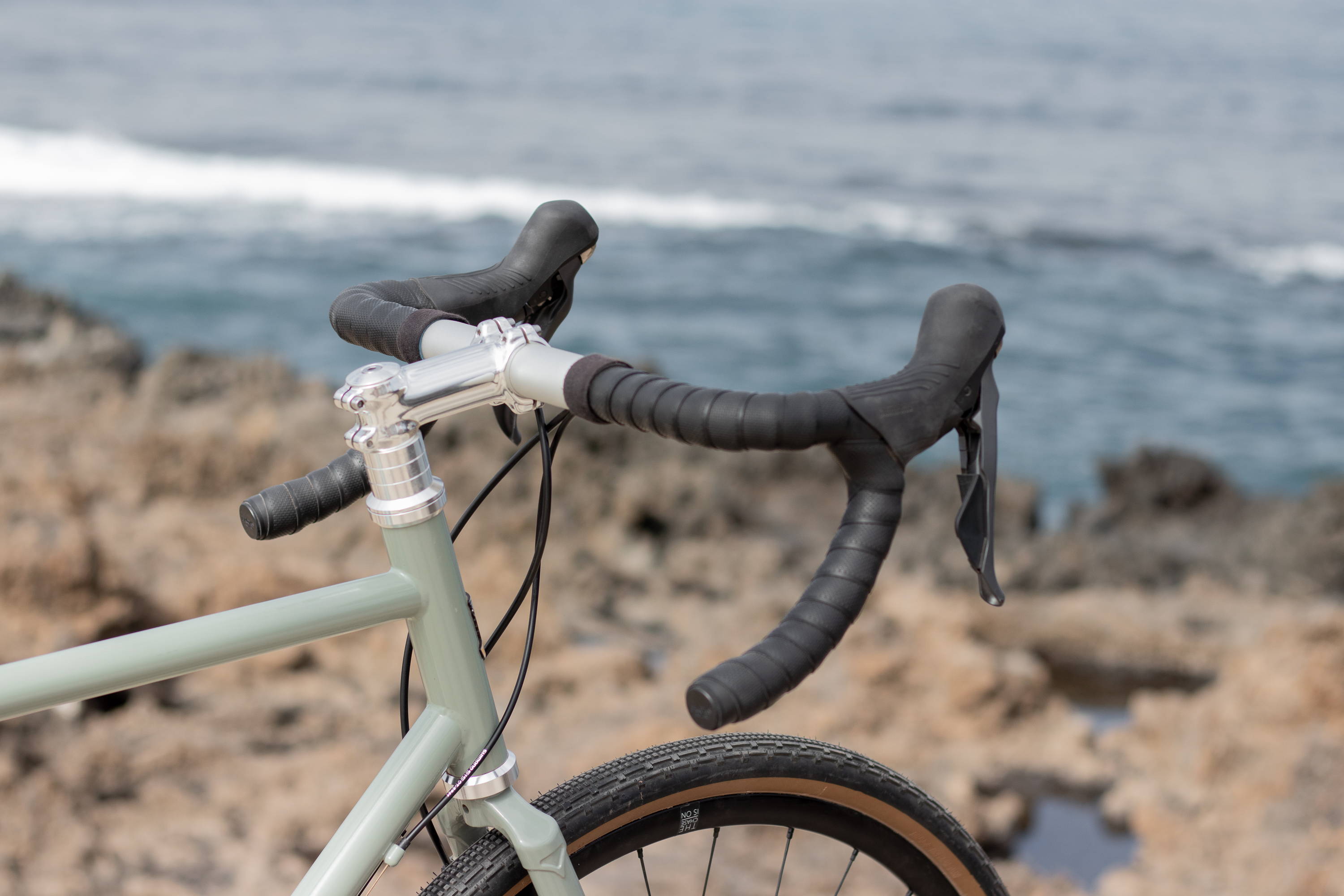 Each Adventure Disc model displays a brilliant balance of high-end design and cutting-edge engineering.

---
This feeling is familiar, though not dissimilar to the ease at which this same bike carries me over busy asphalt roads through London on my daily commute, allowing me to whizz through traffic and get me to work on time. My bike of choice, the Adventure Disc 2, houses Shimano's time-proven workhorse 105 R7000 groupset, which never lets me down. No matter the surface, no matter the weather, no matter the gradient.
The benefits of riding an Adventure Disc extends beyond the luxurious colour of the powder coated exterior - beyond the deliberately long wearing and reliable componentry. An Adventure Disc is not only a bike for life, but a bike for every ride. In essence, it has Swiss Army Knife-like versatility, classic design appeal, and low-tech- high-end functionality that delivers something for everybody. And with three different models you can bet you will find a ride perfect for you.
---
---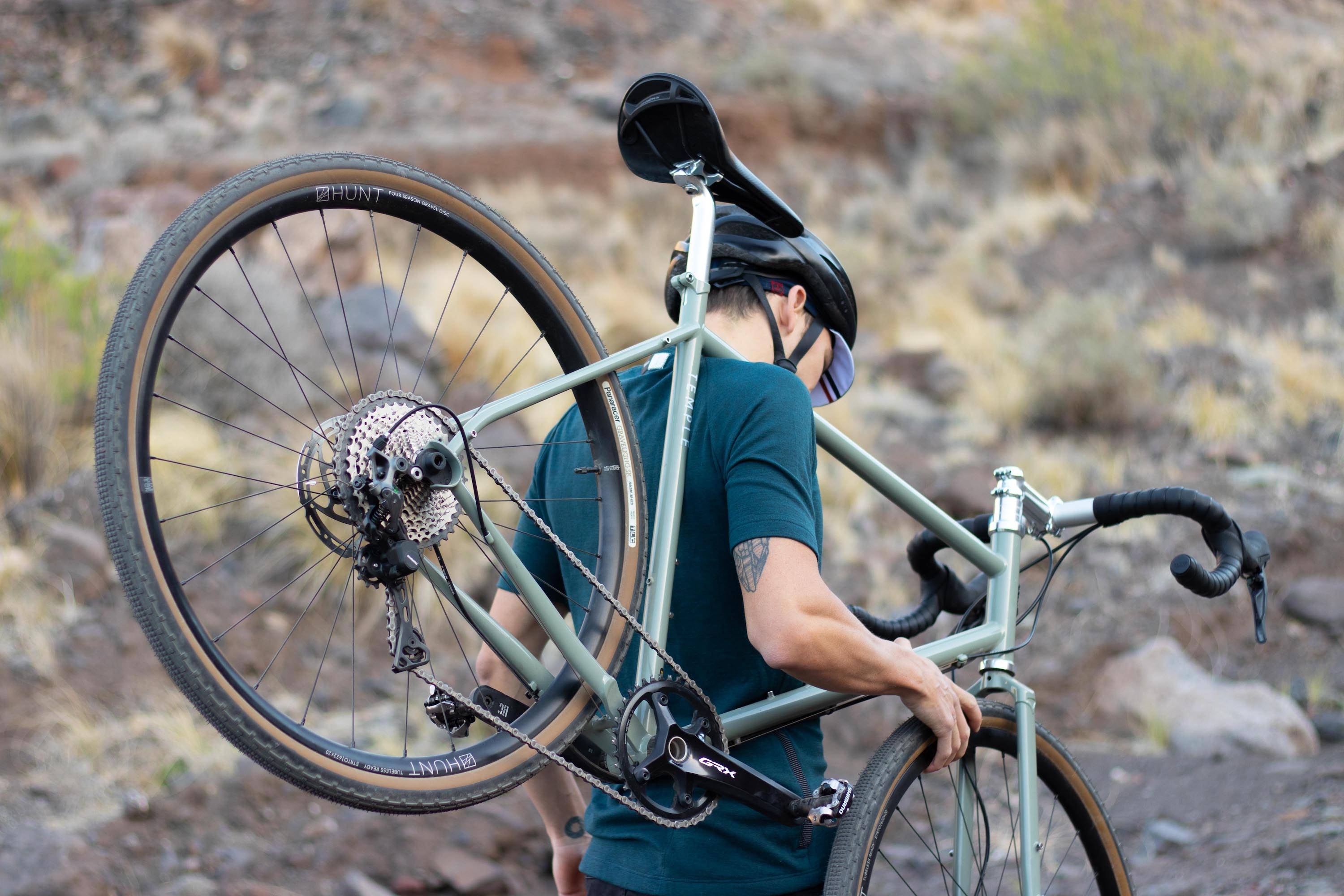 All-terrain, all-weather riding is top of the list with the Adventure Disc 1. The long wheelbase and careful craftsmanship of the bike offers comfort and stability at all times, while compromising little in the way of swiftness and agility.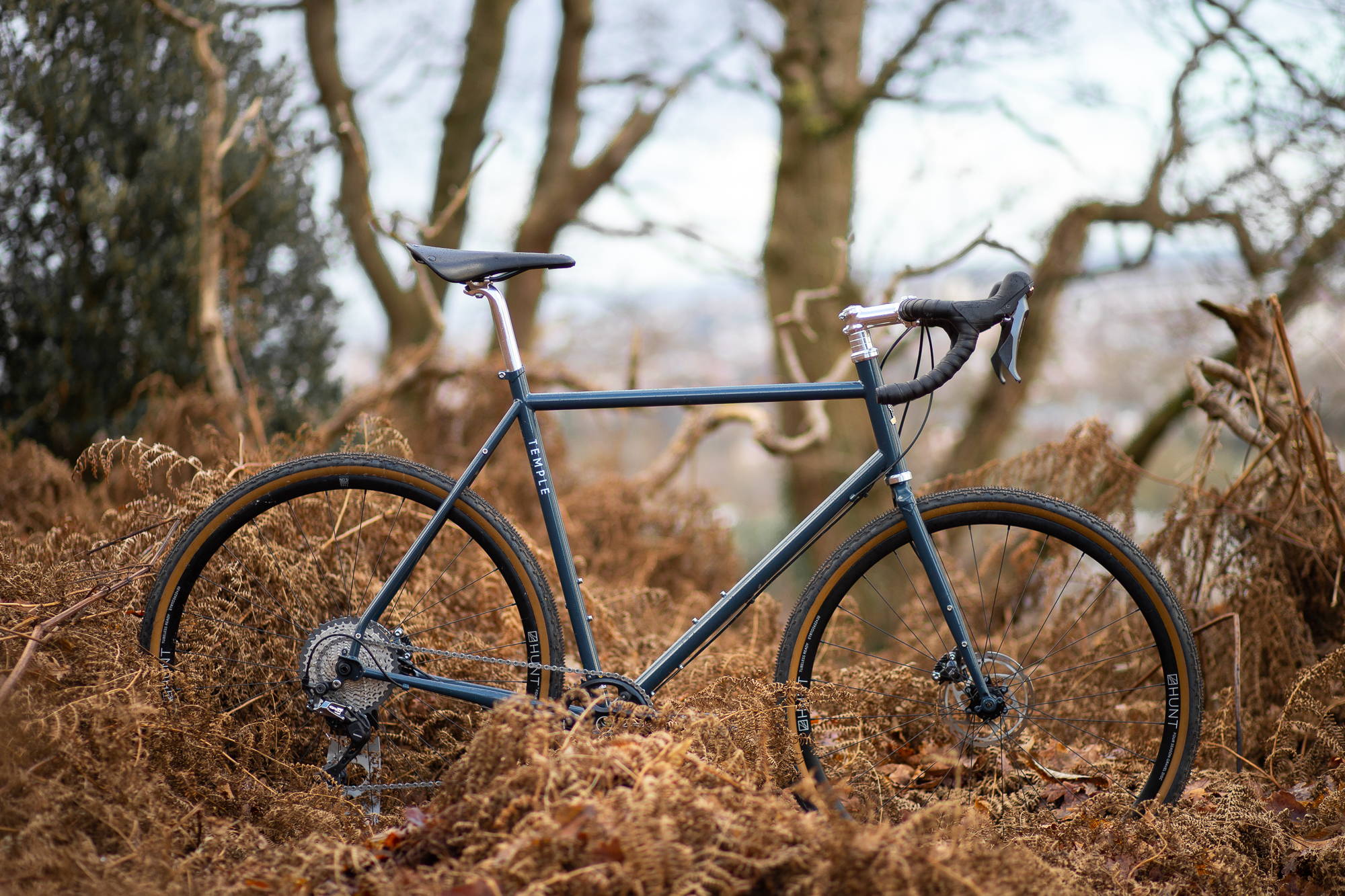 The Adventure Disc 1 features all of the gravel bike must-haves and top-spec luxuries surrounding an ultra-tough Reynolds 725 steel frame, coated in a classic range of colours.

If you're looking for a gravel focussed bike to take you on adventures beyond the tarmac, look no further than our flagship bike, the Adventure Disc 1; the pinnacle of British steel adventure steeds. Perhaps you would like something to take your adventure riding to new levels, allowing you to explore without limitations. Or, you're after a bike that combines some of your favourite mountain bike features in a drop-bar, steel format that allows you to keep pace on gritty surfaces.
The top tier gravel groupset (Shimano GRX RX810) allows for crisp changing and will always have you in the right gear. Whether you are climbing steep sections in the Surrey Hills, smashing out miles in Mid-Wales, or powering down long winding descents in the Highlands, the tight GRX hydraulic brakes will allow you to stop on a dime when needed.
If you want a tough bike with classic design details, that combines luxuries like a tubeless Panaracer Gravel King tires set on Hunt 4 Season wheels and a Brooks Cambium C17 saddle and bar tape, the Adventure Disc 1 will tick all the boxes.
Key specifications of the Adventure Disc 1
Shimano GRX RX810 gearing and hydraulic brakes
Panaracer Gravel King tyres
Brooks Cambium C17 saddle and rubber bar wrap
---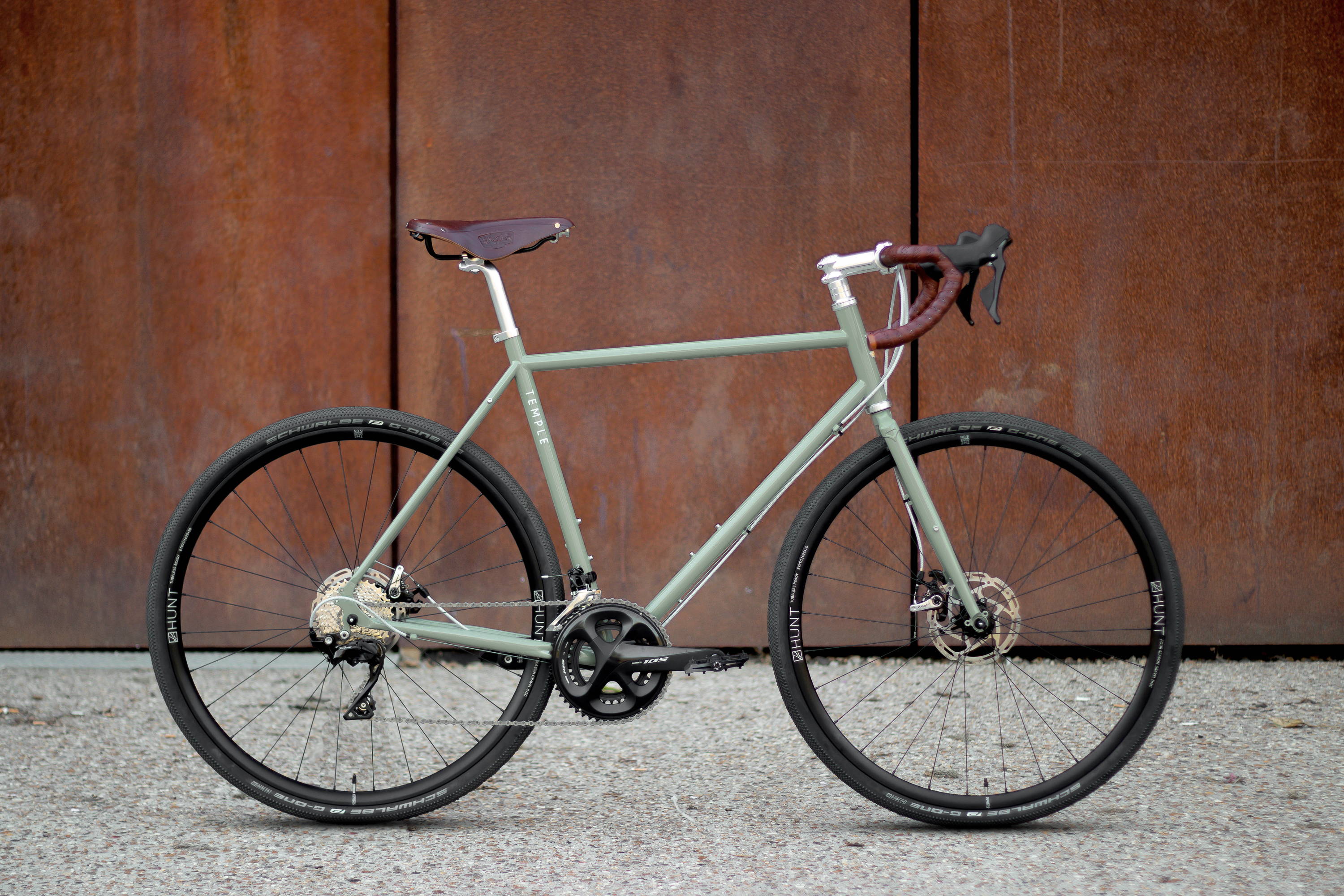 The Adventure Disc 2 is the perfect riding companion, no matter where you are planning to ride. With enough gears to power you up hills in the Alps, and the Hunt 4 Season wheels to get you down technical descents - this bike is the definition of an all-rounder.

Perhaps you want to spend some time on the road, commuting to work and participating in casual Saturday rides, but you also want to start heading out on some dusty off-road tours somewhere remote. The Adventure Disc 2 is well worth your consideration. With the aforementioned Shimano 105 R7000 keeping gearing sporty, and Schwalbe G-One All-round tires that take you from tarmac to springtime-mud with ease. The Adventure Disc 2 utilises mechanical TRP Spyre disc brakes, for low-maintenance, high stopping performance in all conditions, equally adept for pot-hole-dodging on city commutes, and downhill descents at your local trail park.
This bike is perfect for a Saturday morning on your local route or taking you from the countryside to a city cafe in effortless style. A Brooks England B17 Saddle and leather bar tape complete the look - comfort and style are not compromised on our true allrounder ride.
Key specifications of the Adventure Disc 2
Shimano 105 2x11 groupset
Schwalbe G-One All Rounder tubeless-ready tyres
Brooks B17 Leather saddle with matching leather bar wrap
---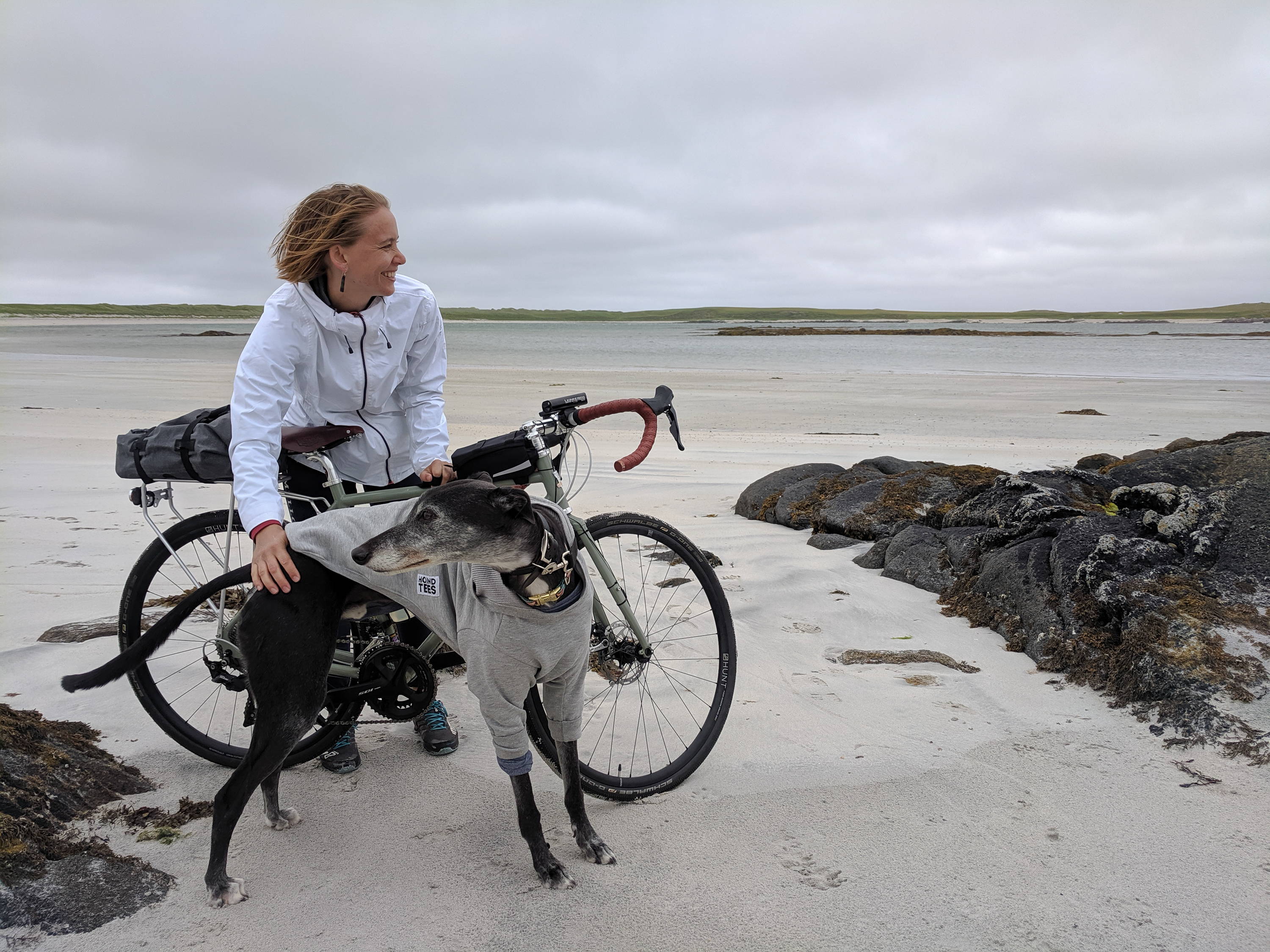 The Adventure Disc 2 was the companion of choice for Amy's tour through the Outer Hebrides, read more about it here.
---
A BIKE TOUR THROUGH THE OUTER HEBRIDES

"After wrestling with the purpose and detail of our first bike tour as a couple, we eventually settled on the Hebridean Way. A 185 mile (297km) traverse of the rugged archipelago that blinds to the western edge of the Scottish Highlands."
If the thought of taking on a multi-day bike tour fills you with trepidation, we hope Amy's account of a week-long biking adventure through the Outer Hebrides will help you to feel more informed and prepared.  
---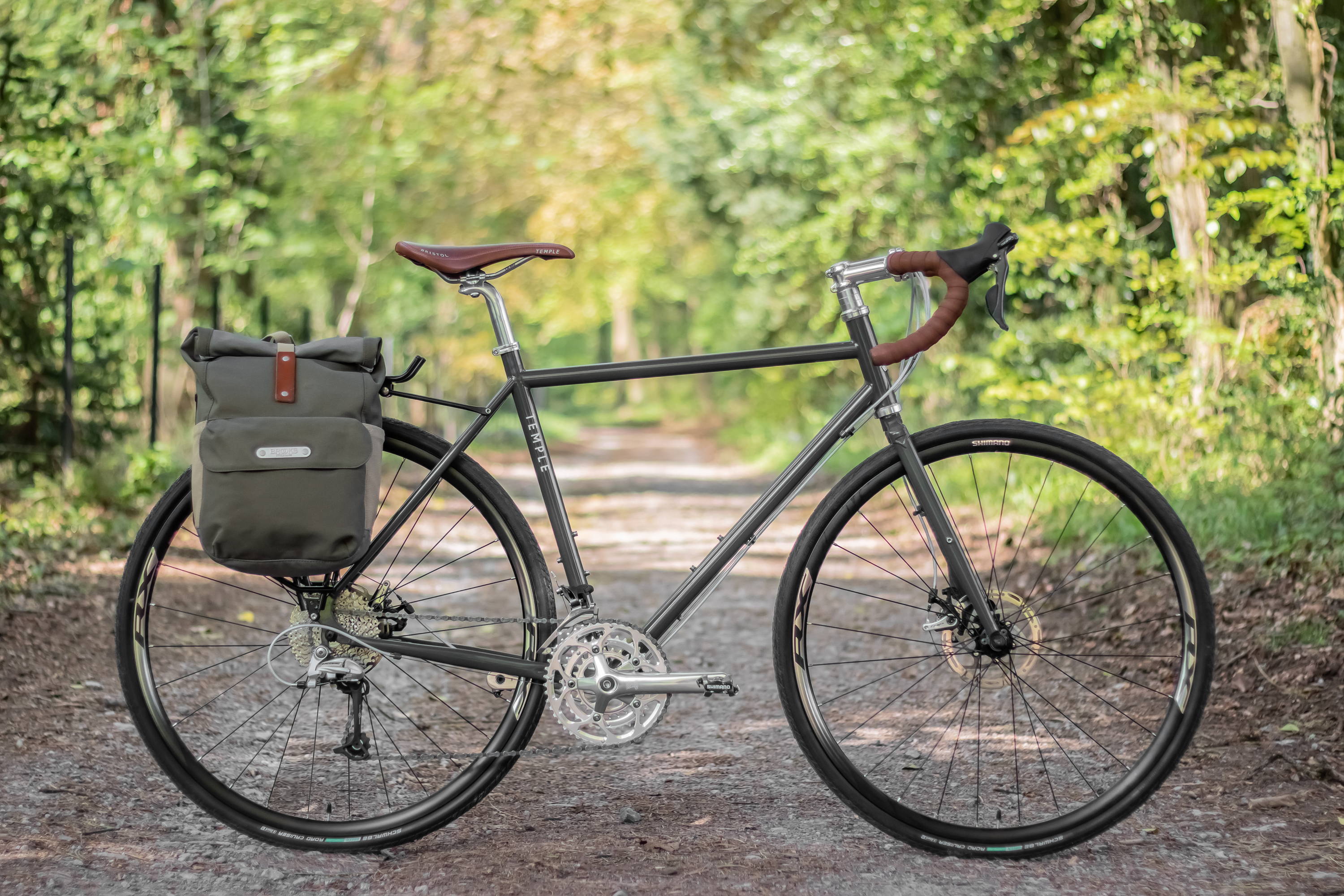 Starting with our tried and tested Adventure Disc frameset, the Adventure Disc 3 gives you the ride and feel synonymous with the rest of the range but with gearing more tuned towards fully loaded adventures in the mountains.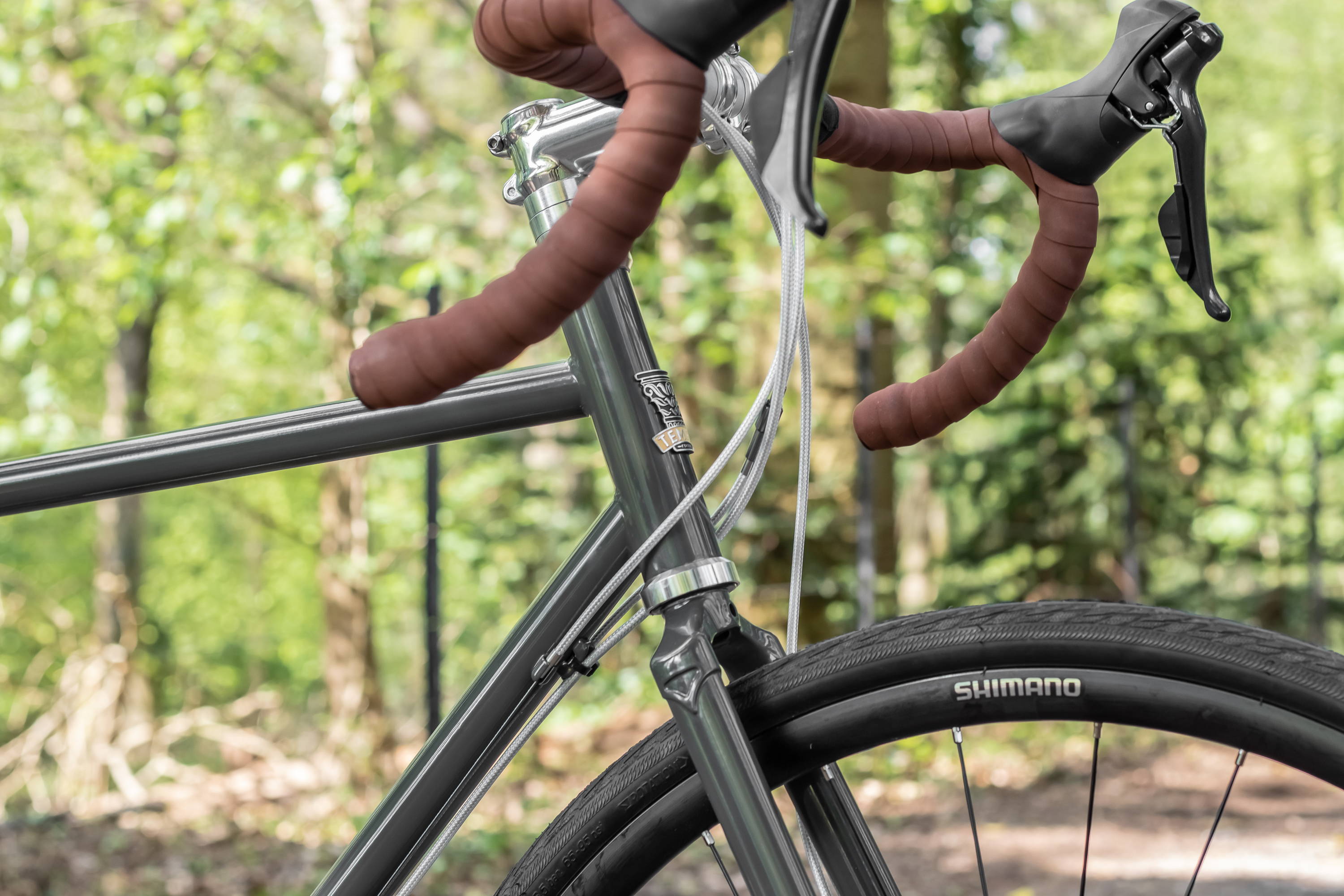 We designed the Adventure Disc 3 to be the ultimate touring bike with gravel capabilities, taking you and all your kit to wherever you want to go.

Dreaming of a long road tour exploring remote corners of the globe? The Adventure Disc 3 is the bike for you! The hardy frame, coupled with super low-fuss and readily serviceable components make for the ideal companion when spending long days in the saddle, often with long periods of independent servicing and repairs on the road.
No matter the amount of luggage you have with you, or how steep the next hill is, you will keep the pedals turning with 27 pretty polished gears reliable shifting with Sora integrated STI shifters at your fingertips. And speaking of luggage - there are numerous mounting points on the frame, plenty enough for all the racks and bottle cages that an intrepid world traveler would need. The through-axle and replaceable derailleur hanger are excellent features to keep you rolling on the road less travelled too.
And if you want to venture off-tarmac - your Adventure Disc 3 will be more than up for the job. Forestry roads and remote village paths are no object for the Shimano RX wheelset and 32mm Schwalbe Road Cruiser combination. Finish your bike off with a pair of polished aluminium pedals and you are looking at not only a world-ready traveller, but a very beautiful bike to move you the distance.
Key specifications of the Adventure Disc 3
Temple Corinthian Triple crankset combined with Shimano 12-36 cassette
Shimano RX wheelset with Schwalbe 32mm Road Cruiser tyres
Temple Bristol saddle with foam bar wrap
---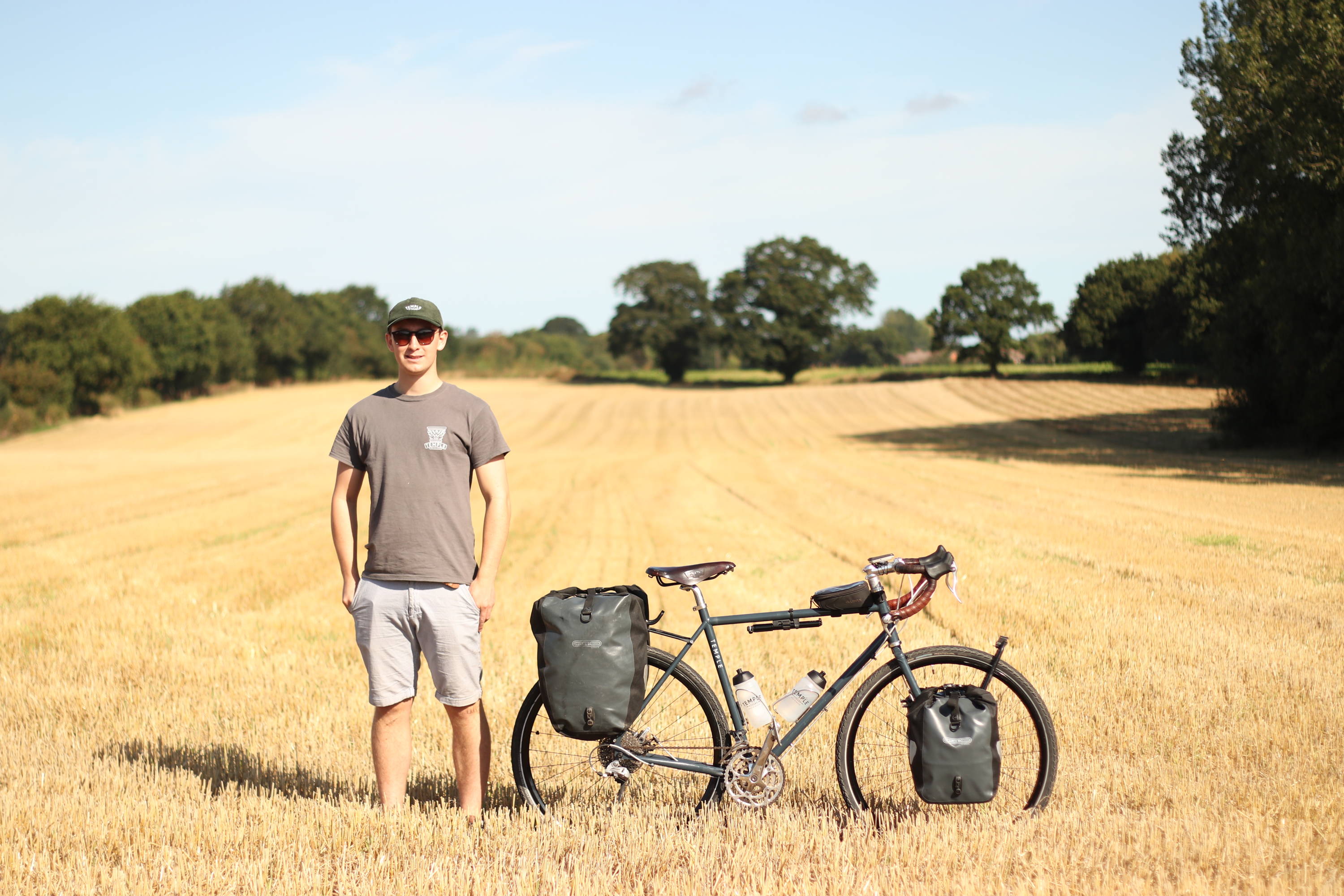 The Adventure Disc 3 can take you to the furthest corners of the world and back, as shown by our Team rider Jack who used this bike to traverse 6000km through SE Africa. Read more about Jack's adventure here.
---
In 2019, Jack O'Shea came to us with an idea to cycle 6000km fully unsupported through 6 nations in Africa, traversing a variety of treacherous terrain from grasslands and rainforests to deserts and mountains, carrying all his kit and essential supplies.
He needed a bike fit for the purpose, and the Adventure Disc 3 was just the ticket.
Jack made it back in one piece after 4 months, reporting that the only mechanical issues the bike had was a plight of punctures caused by miles of roads covered in elephant sized thorns.
---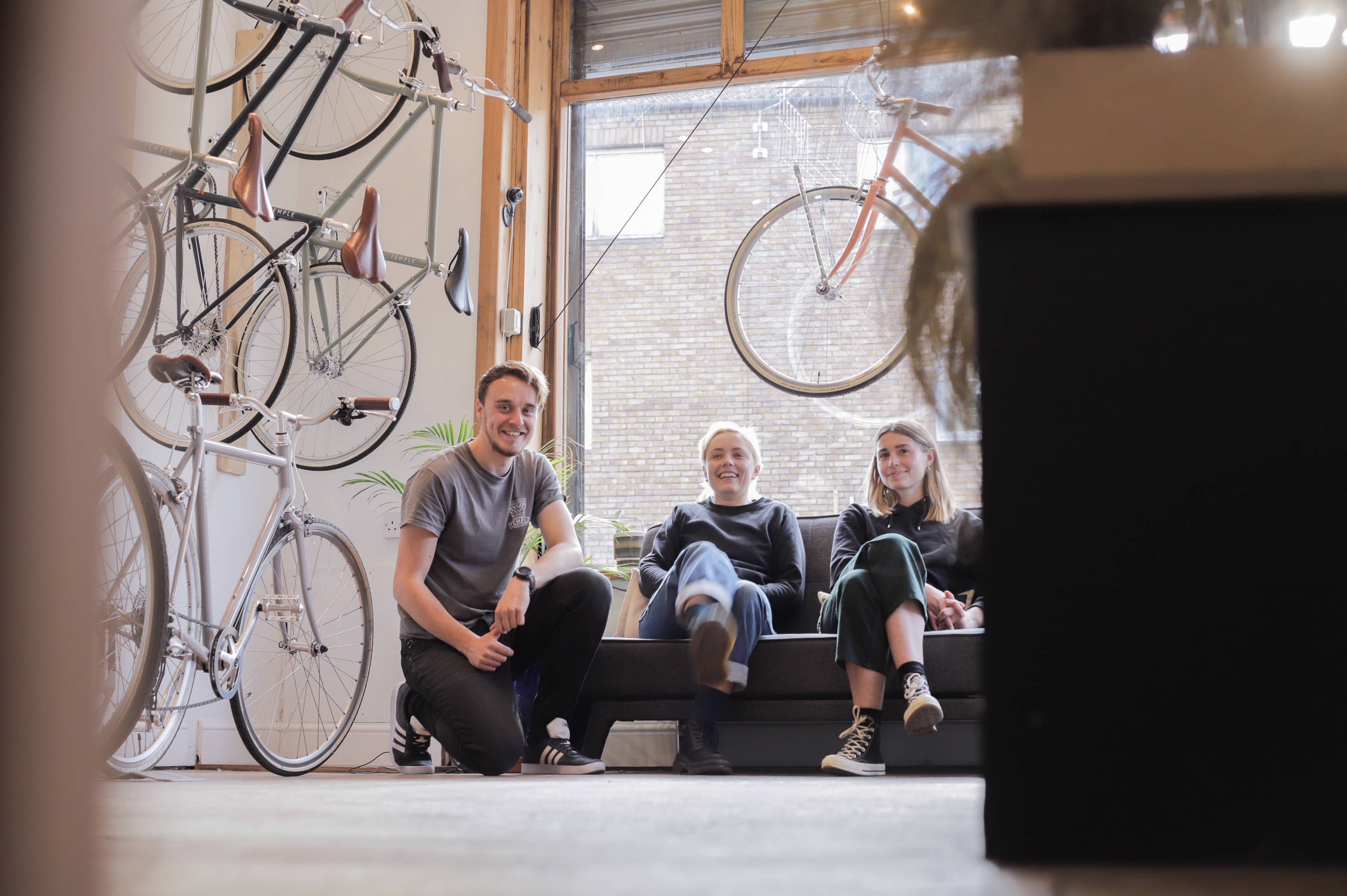 Visit us in our Brick Lane shop where our friendly and knowledgeable team will help you find your perfect bike.
---
WE'LL HELP YOU FIND YOUR PERFECT BIKE

If you would like to try out one of our Adventure Disc bikes, you can book a test ride at our London Brick Lane shop. The friendly team will be there to answer any questions that you have and to help you decide on the perfect bike for your needs.
---
---
NOTE: The specifications given in this article are the standard options available for the different Adventure Disc Models. If you are looking for a custom Adventure Disc order or would like to discuss possible upgrades to your bike, get in touch with our team who are always available to help you with your custom order needs.