Behind the Design: Step Through Lightweight
An insightful look from Matt, the founder of Temple, into the thoughts and processes behind the design of one of our best selling bikes, the Step Through Lightweight.
7th July 2019 - By Matt Mears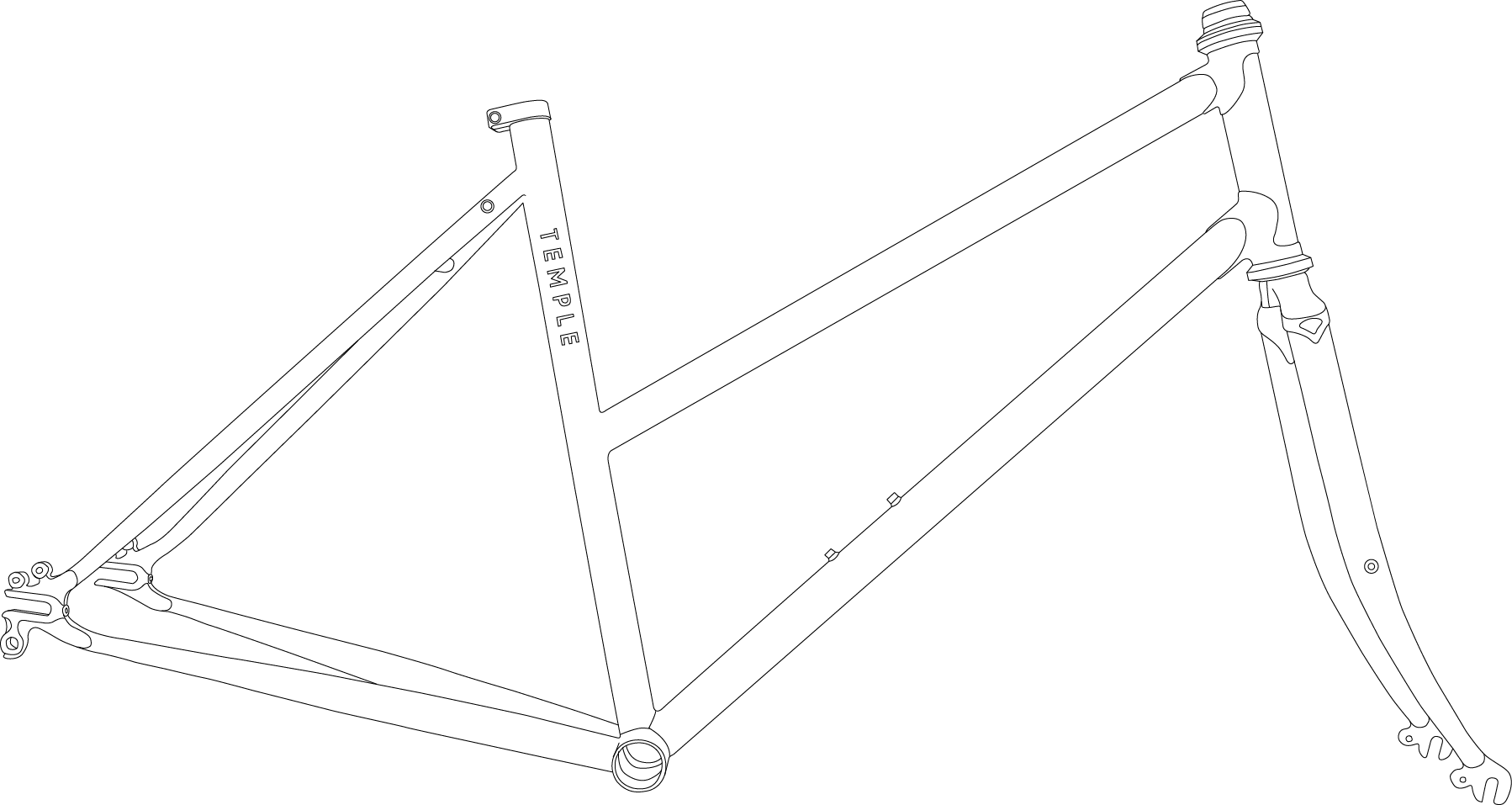 ---
A lightweight, spritely and comfortable, unisex bike for daily riding, packed with interesting details, yet with a minimalist look.
---
Cycling is dominated by talk of the lightest, fastest and flashiest super-bike. Often associated with performance, skin tight lycra and a universal battle with car drivers. For us this doesn't dig. We like to enjoy the ride, take pride in our majestic machines, and revel in the happiness and sense of freedom it brings. We're here for a good time not a fast time.
 One of the fundamental ideas behind Temple Cycles, is making bikes which last for decades. and are fun to ride for as long as possible. In order to produce bikes like this, a lot of thought goes into every aspect, from the materials we use, the components we select and the processes we implement to produce them.
 Let's take a look at one of our best selling models, the Step through Lightweight, and discuss what went into creating this nimble and spritely, steel framed all-rounder.
Philosophy of Design
There are plenty of bikes readily available which look a bit like it, but they tend to be much lower-end, using cheap, poor quality components and materials, sporting a basic finish and lacking crucial design details which make bikes fun to ride. The end result being heavy and maintenance prone machines.
Often these sorts of bikes are decked out with all the add-ons possibly available, packing in dozens of features for the money, resulting in low quality throughout. We thought it would be better to build the Step Through Lightweight to order, allowing the customer to specify what add-ons they actually need!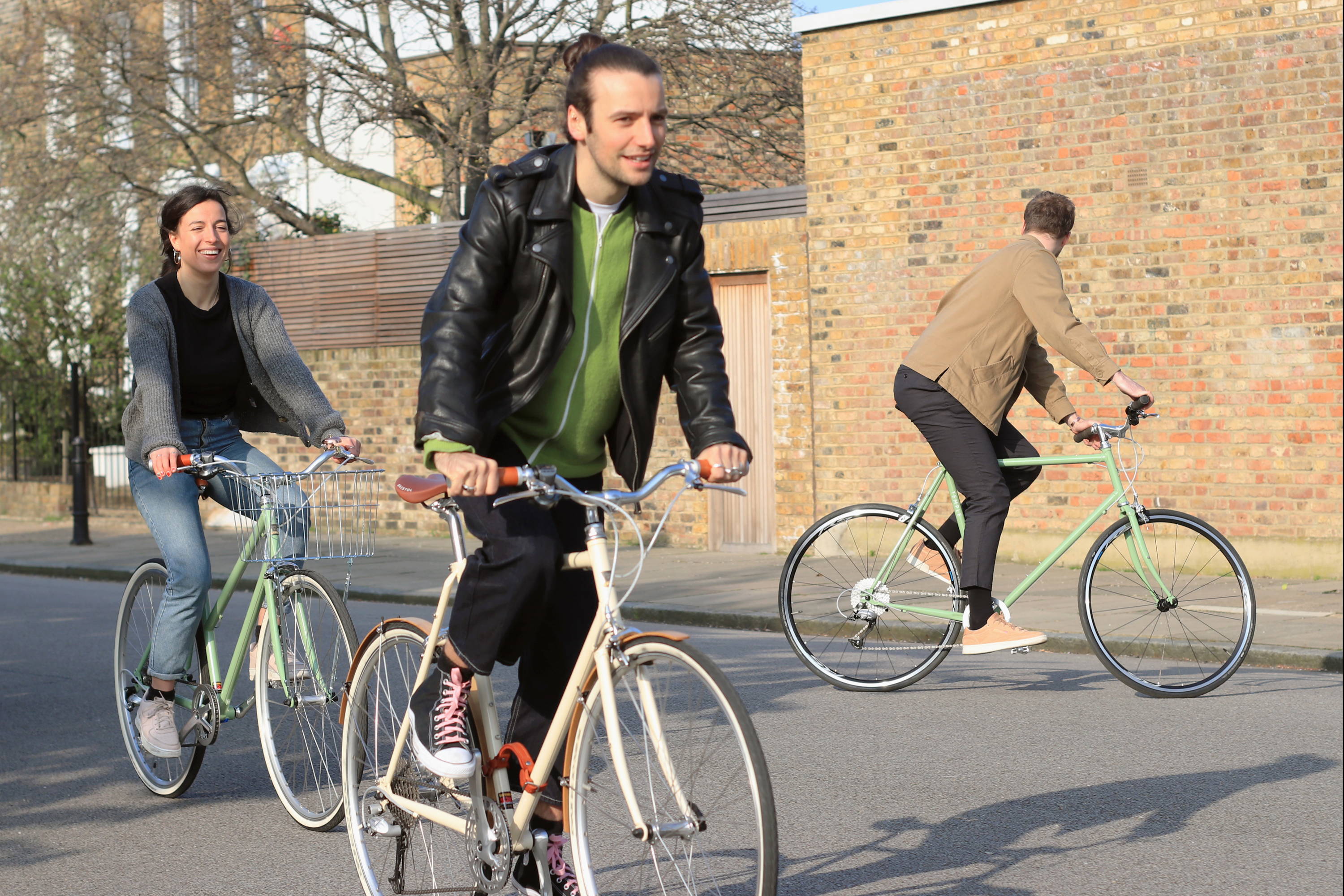 Design Brief
We wanted to create a lightweight, unisex, step through style bicycle. Versatile enough to be used daily in urban situations but also longer leisure rides and light touring. Essentially, meeting one of our key design drivers… A bike for life.
Like all good bicycles, it needed to be stable, fun to ride and comfortable, but what really drove us to design and produce this bike was the fact that there are plenty of bikes readily available which look a bit like it, but they tend to be much lower-end, using cheap, poor quality components and materials, sporting a basic finish. The end result being heavy and maintenance prone machines.
A bike with a step through type frame is often overlooked by many as a women only design, but in fact it's not a gender specific bike. Look to the rest of Europe and you will see everyone riding on step through frames with a swept back handlebar. It's just the way things are done if you want a comfortable, agile and easy to ride machine.

---
"We wanted to create a lightweight, unisex, step through style bicycle. Versatile enough to be used daily in urban situations but also longer leisure rides and light touring. Essentially, meeting one of our key design drivers… A bike for life."
---
Key Features: Frame and Fork
The Step Through Lightweight is designed to last, constructed around a hand-built Reynolds steel frame. Plenty of modern bikes are made out of steel, but usually Hi-Tensile steel, which is heavy and creates a dull riding characteristic. Reynolds is a British steel manufacturer, and the tubes they make are specifically designed for high quality and lightweight bicycles.
You can watch a film we made at the Reynolds factory here.
All the vintage bikes you see on the roads today are all made from steel, a testament to the material's durability. Not only is it long-lasting, but steel can easily be recycled at the end of it's life, completely opposite to more modern bike materials such as carbon fibre, which generally ends up in landfill after it's short lifespan. The frame forms the basis for a versatile bike. The geometry affects how the bike handles, the mounting points and cable routing dictate how the bike can be adapted and the thickness and profiles of the tubing gives the bike it's ride characteristics. We're extremely proud of our Reynolds steel frames. They're constructed using lugs (the shell like structures around the ends of the tubes) which add a lovely detail and extra strength. The Step Through Lightweight can be used with standard gears, hub gears or even as a fixie. Who knows how the rider might like to setup their bike in years to come?
With a subtle curve and elegant lugged crown the fork of the Step Through Lightweight is a thing of beauty. A curve in a fork has been used in bike design for years, adding a certain level of flex, creating a forgiving and comfortable ride. We've added in extra mounting points at the dropout and midway up the leg for attaching things like mudguards and front racks too.
Overall, the geometry of the frame (which affects how the bike performs and handles), is what we'd describe as nimble, allowing precise changes of direction and good acceleration, yet stable enough not to be twitchy at speed, and when under extra load with pannier bags.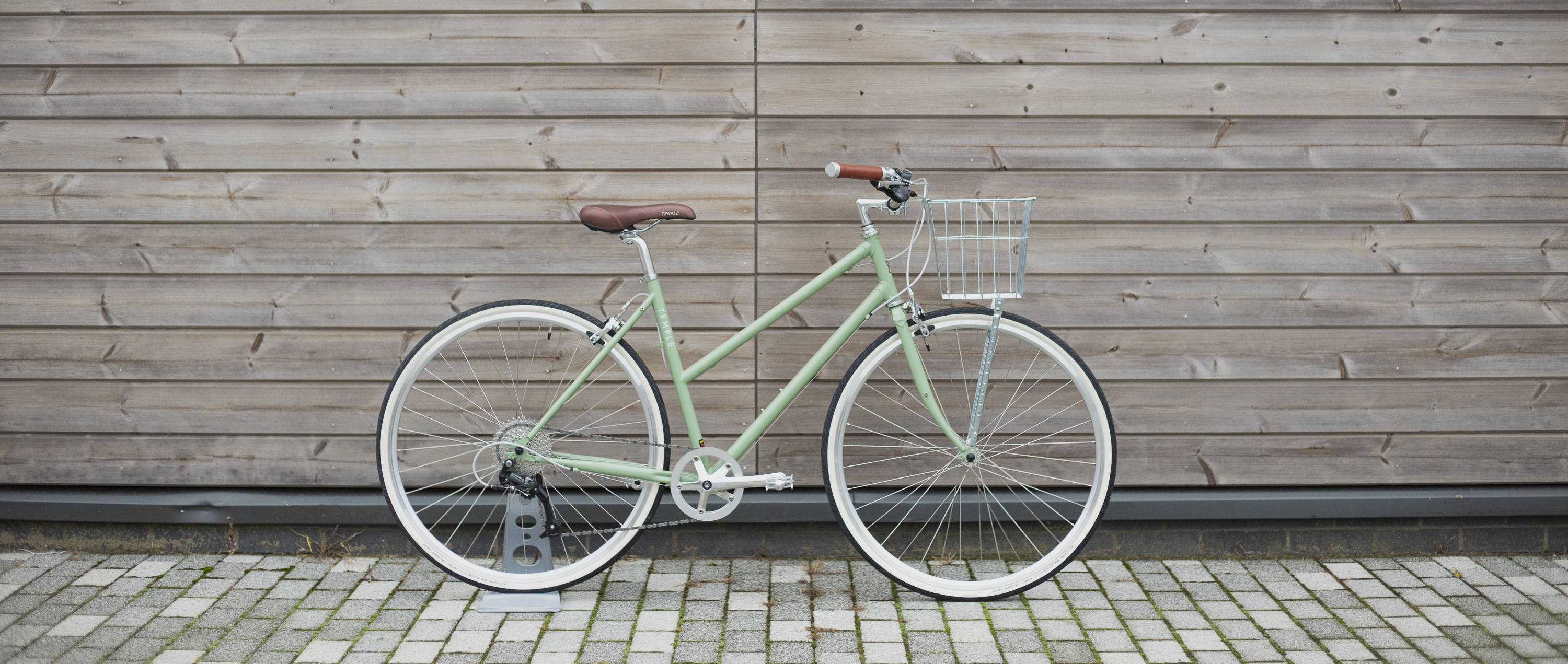 Key Features: Wheels

We designed the wheels to be understated and classic. The specification of the wheels on a bike can often be overlooked, but in fact it's crucial to get this right. We've opted for high quality, Shimano hubs with thoroughly sealed and serviceable bearings. We lace these up with 36 spokes front and rear, onto light but strong alloy box section rims. These also have a CNC'd braking surface so you can power on the brakes and stop in no time.
We could have designed the wheels to be lighter by using less spokes, but felt that going for a stronger 36 spoke setup covered all eventualities; potholed roads, loaded touring and years of hassle free use.
We matched the wheel with quality tyres from the world-renowned German manufacturer, Schwalbe. These tyres are grippy, long lasting and have a kevlar belt to protect from punctures. They're suitable for a variety of surfaces from tarmac roads to gritty tow path trails.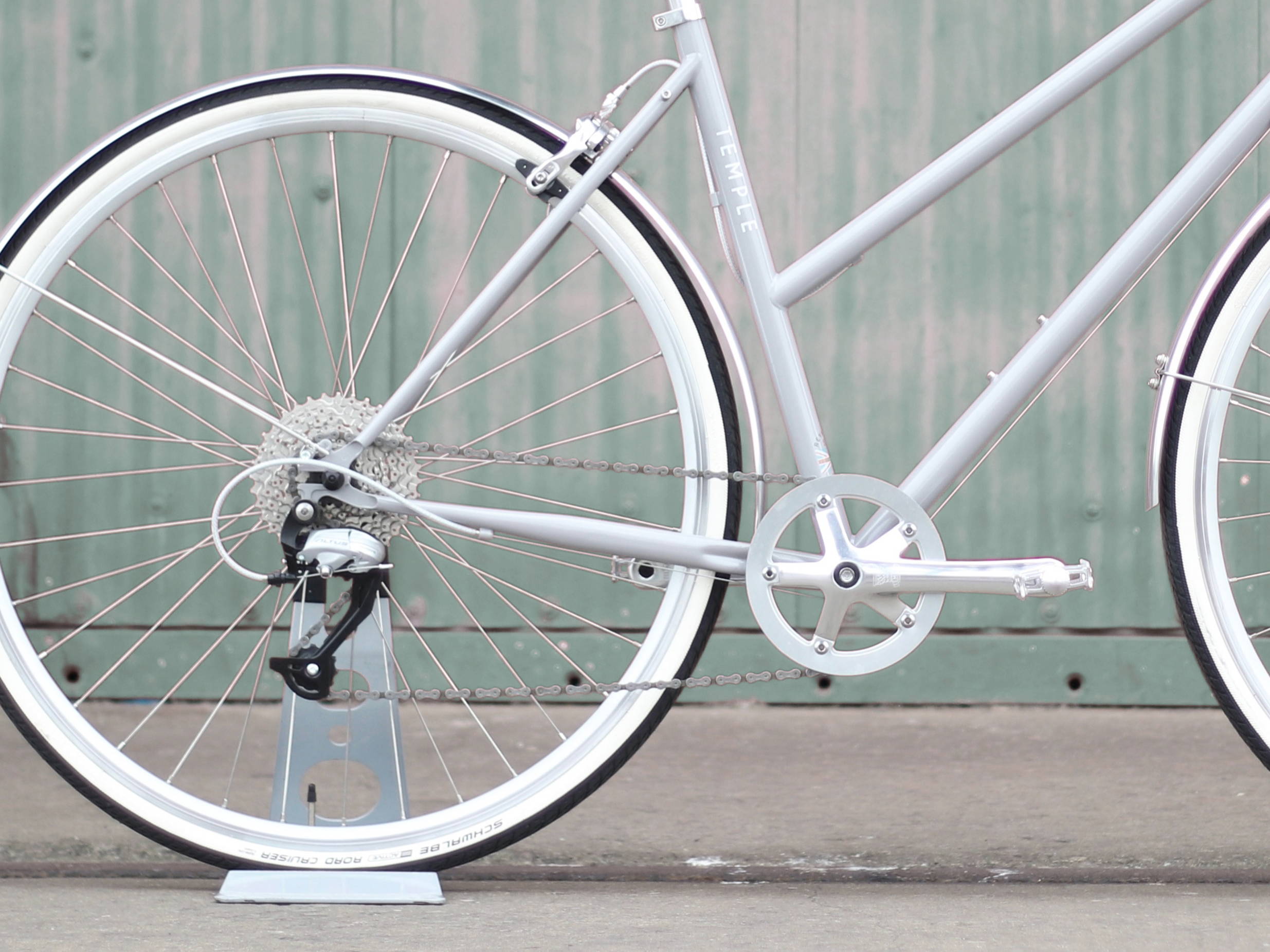 Key Features:Gearing

The Step Through Lightweight uses mountain bike gearing. We chose this for several reasons. Firstly, mountain bike gearing offers a really good range of gears, to get you up the steep hills, and zooming down the other side. They're also designed for rugged use, so can easily cope with the demands of daily riding, and lastly, they're simple, easy to maintain and tune.
Using a 1x9 setup means that there's just one gear shifter on the handlebar, making cycling simple and carefree. It's a trigger shifter too, which gives clean and precise shifting and the most ergonomic feel there is.
All the gearing components are made by the Japanese company, Shimano. They've been making gearing components for decades and are basically at the pinnacle of the industry, leading the way in innovation, performance and sustainability. We in fact only use Shimano gearing across our entire range of bikes.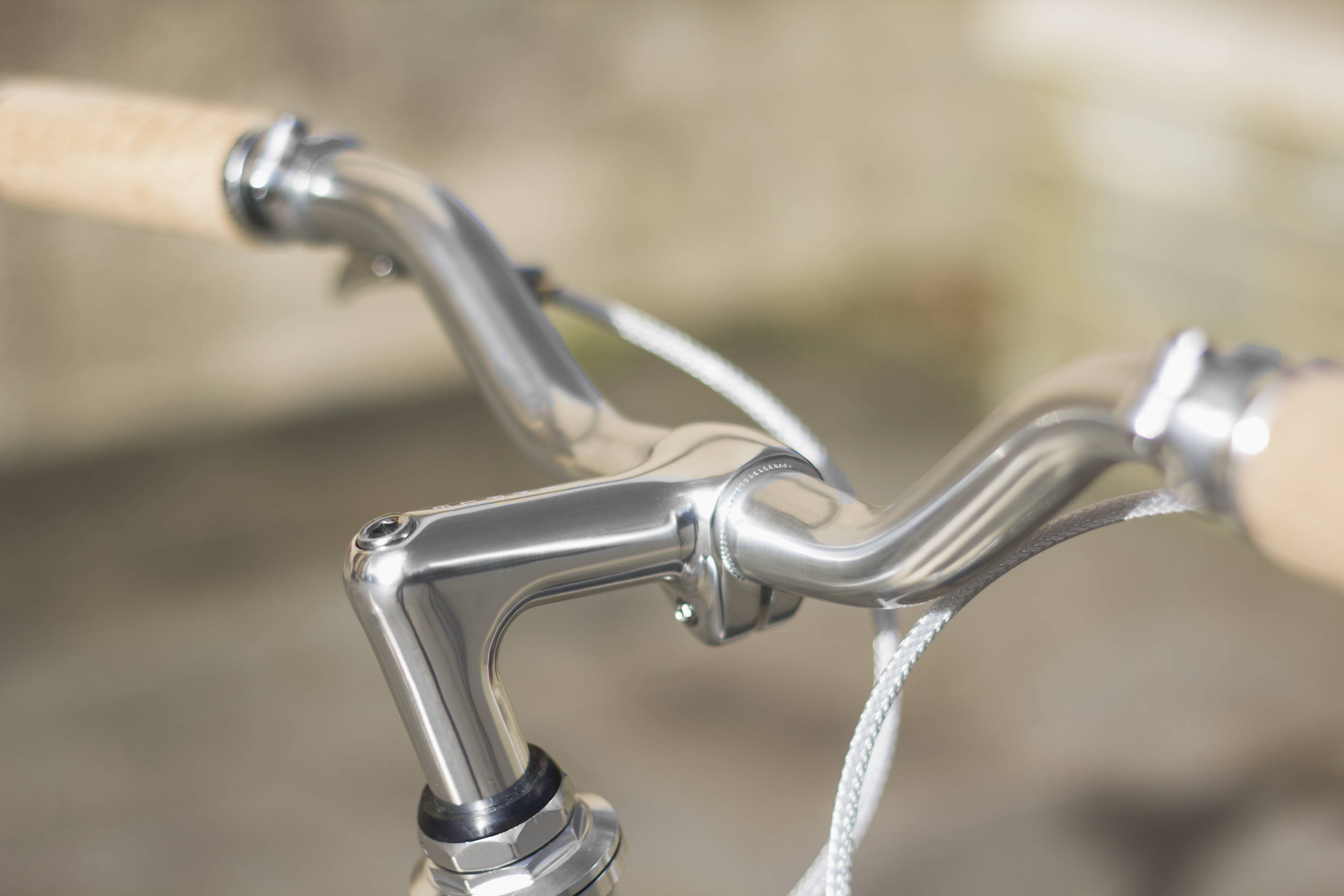 Key Features: Polished alloy components and premium finishing

It's crucial that our frames are made from quality steel to give the bikes their unique riding feel, but most of the other components are manufactured from aircraft grade aluminium alloys. This allows us to keep the overall weight as low as possible. Parts like the polished quill stem and handlebars add the classic silvery touch our bikes need so much, and distinguish them from your typical modern bike, decked out with black components.
The quill stem is a thing of beauty. Minimalistic in form, yet practical in nature. The height of the handlebars can easily be changed with the twist of a single allen key located on top of the quill stem. We feel that making our bikes as user friendly as possible really helps with inspiring people to ride, look after their bikes and become one with their steed.
The closer you look at the Step Through Lightweight, the more interesting little details you will see. From the handmade headbadge, to the silver braided cabling and ergonomic leather grips. These are all details which we treasure at Temple Cycles and are what make our bikes special. You will not ever see this kind of attention to detail on a bike at this price, ever.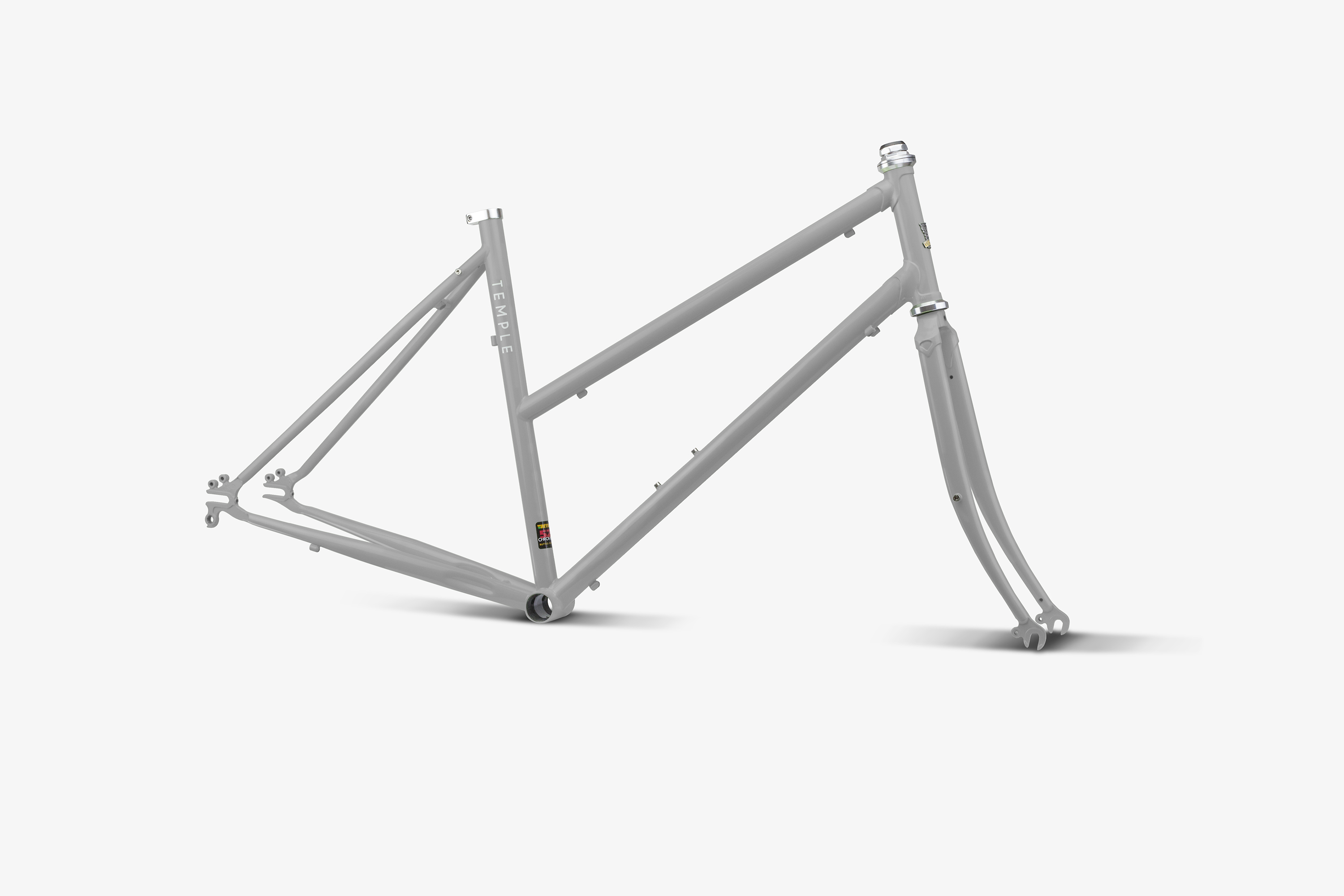 The Ride

Apologies for the bombardment of information! Sometimes it's good to keep things brief, but also I feel that occasionally it's worth diving in a little deeper about what we've spent years designing and refining, as there is so much detail that goes into a relatively simple object which we want to share with you!
The most important thing however is how the bike rides, and whether the user enjoys it. One of the best feelings we get is when someone takes the Step Through Lightweight out for a test ride and 99% of the time, come back with a smile beaming across their face. They often say 'it's the best bike they've ever ridden' or 'it's so light and easy to ride', and this is exactly what we've been aiming for with this bike.
We mainly sell our bikes online however, and most Step Through Lightweight customers simply order online never having ridden the bike, which is a testament to our design that we never get any returns. However if you would like to try one out, we have demo bikes to test at our Bristol workshop and also our shop in London.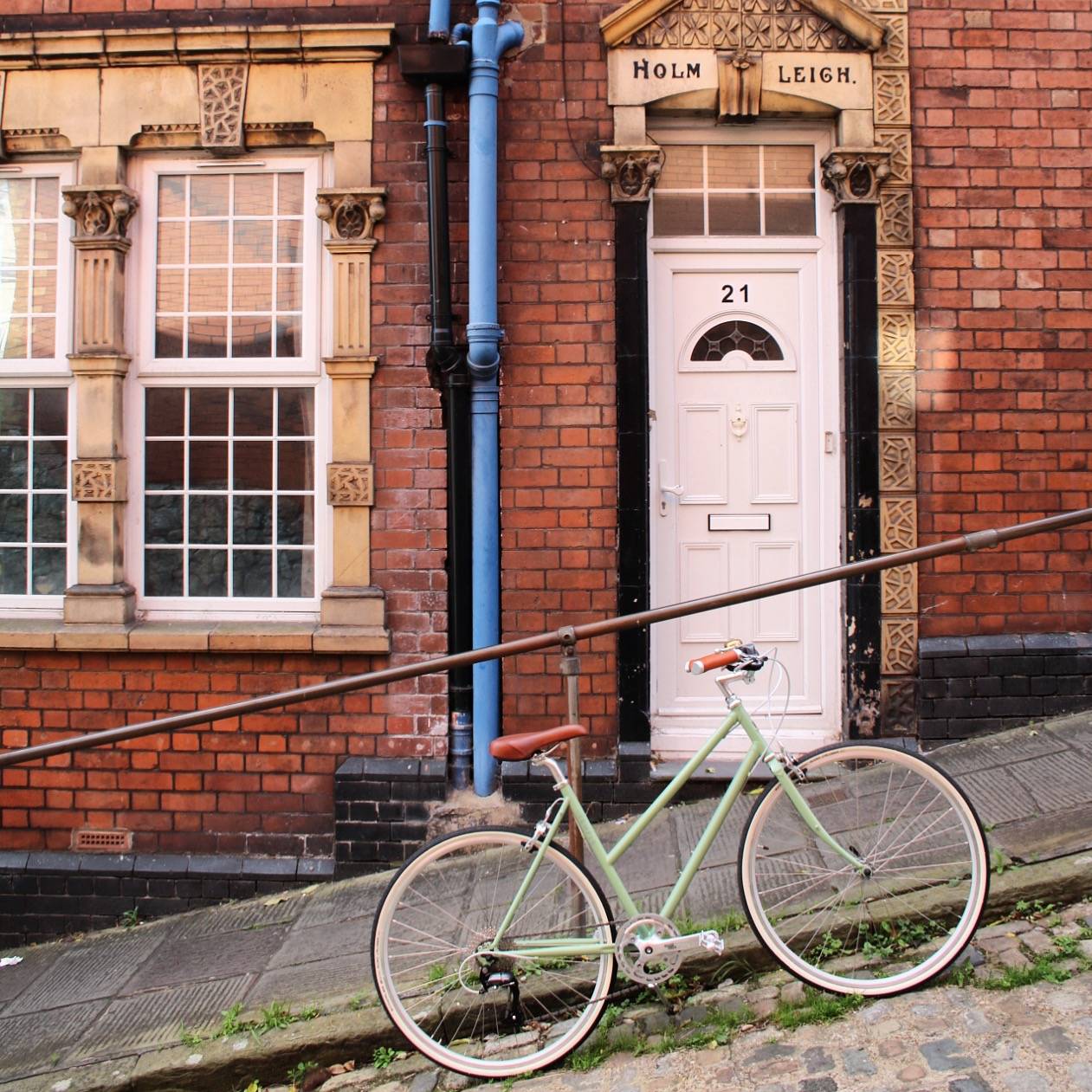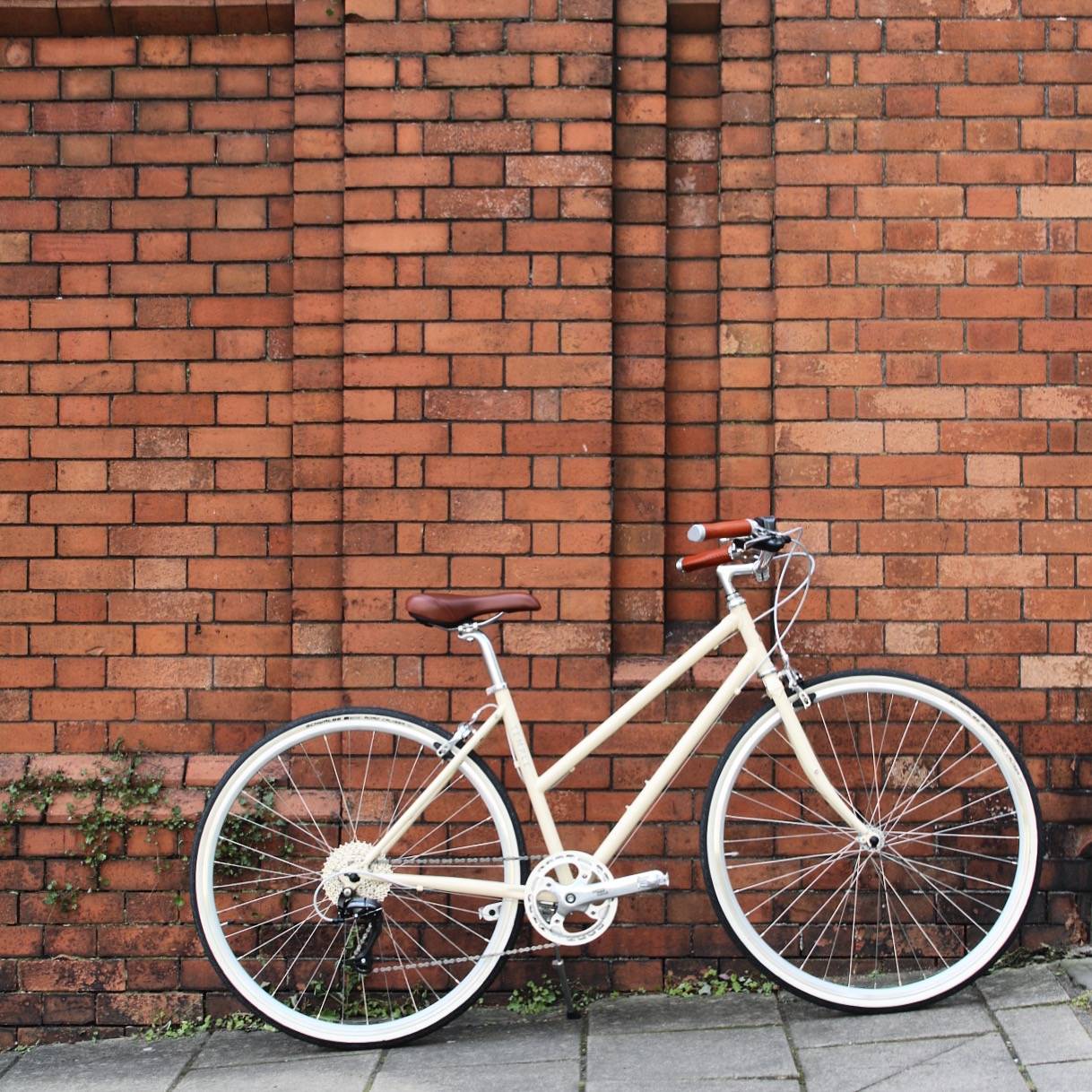 Anyway, thanks for taking the time to read this though and we hope that you now have a good understanding for the sort of bike that it is. Basically just a simple, versatile, lightweight and fun to ride bike that can be used for a bit of everything in life. It's a breath of fresh air to be in a position to create bikes that everyone can enjoy and not have to worry about the lycra clad, performance obsessed rhetoric that's being pushed by the marketing departments of the old school behemoths of the cycling industry. With thoughtful design and quality products we make bikes for everyone to enjoy the simple pleasure and freedom that is riding a bike.
Cheers,
Matt
---
---